Aaron Hernandez sports neck tattoo at latest court hearing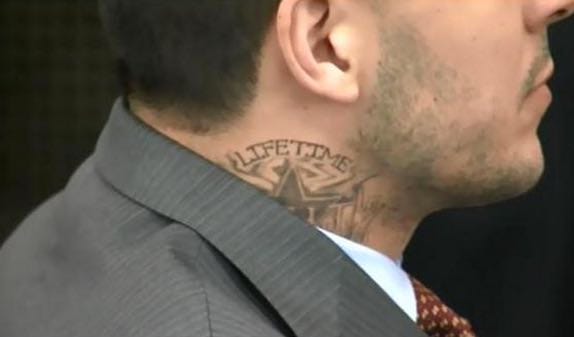 The Associated Press; Reporting by Matt Blanchette (@mattblanchette)
BOSTON (AP) – Former New England Patriots player Aaron Hernandez is sporting a new neck tattoo at his arraignment in Boston on charges he tried to silence a witness in a double murder case against him by shooting the man in the face.
Hernandez pleaded not guilty Thursday on a witness intimidation charge in the shooting of Alexander Bradley.
Hernandez was convicted last month in Fall River in the 2013 killing of Odin Lloyd. He was sentenced to life in prison.
The tattoo includes the word "Lifetime" above a drawing of a star.
Assistant District Attorney Patrick Haggan says Hernandez shot Bradley in 2013 in Florida a night after Bradley made a remark about the 2012 double slaying in Boston.
Prosecutors say Hernandez shot the men over a spilled drink in a bar.
Meanwhile in New Bedford Superior Court, a judge extended a restraining order on the sale of Hernandez' 2005 Hummer. The judge said that if Hernandez lawyers, and attorneys for Ursula Ward, the mother of the man Hernandez is convicted of killing, reach an agreement to sell the Hummer before the end of those 60 days, the funds would be held by the court.
Copyright 2015 The Associated Press. All rights reserved. This material may not be published, broadcast, rewritten or redistributed.