ABC 6 Exclusive: Family Remembers West Warwick Man Killed In Fire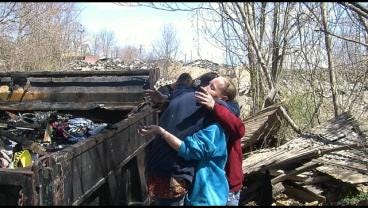 The family of Thomas Andrews, 46, of West Warwick, was back on scene today where their loved one burned to death in a fire at a homeless encampment. They were trying to salvage anything they could to remember the husband and father.
"The whole building was on fire," a neighbor recalled. "So I called it in and then I heard the man screaming at the same time. It wasn't a nice scream."
It was the scream of Thomas Andrews coming from a makeshift homeless encampment on fire. By the time officers arrived, 95 percent of his body was burned. Andrews did not make it.
His wife Heather Carlow sifted through the charred remains Friday morning, clinging to pieces of his past.
"He was sleeping right there. His socks are right there!"
Her husband's body was burned so badly she still has not been able to see it. Every now and then she would come across something, a piece of his birth certificate or part of his clothing.
Family helped with the search. They say Andrews was staying at the encampment while he tried to turn his life around. He was supposed to check in to rehab today.
"He's not just a homeless person," his brother Joe said. "He was my brother. Her husband."
He was also a father to a 9-year-old girl who wrote him a Valentine's card, one of the memories the fire left behind.
"He had a wonderful daughter that will live on in his memory," Carlow said. "I still haven't been able to tell her. It just really hasn't hit me yet."