ABC 6 Exclusive: Teacher Talks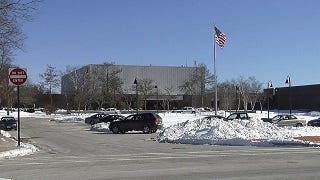 By: Liz Tufts
A violent outburst from a New Bedford High School student, all because his teacher wouldn't give him his cell phone. That teacher speaks only to ABC 6 about the incident.
Joanne Muara says she cries herself to sleep almost every night, because of the ongoing violence at New Bedford High, but last week she never thought she'd become a victim herself.
It isn't easy for Joanne Muara to watch this video of a student threatening her. "I was so traumatized about this whole event, " says Muara.
It happened last Monday right at the end of first period. Muara, who teaches business, noticed a student's cell phone charging near her desk so she put it in her drawer. "I have a rule that kids aren't allowed to charge anything without my permission, ' says Muara.
That's when she says 18-year-old Kemar Roselus became combative, and then lashed out. He picked up a chair and threw it at Muara. He missed, but he launched it so hard the chair broke in half. Muara called a teacher for help and the student was taken out of class. She was so upset she took two days off of work. But when she came back, "He was back in my class not expelled or suspended. Nobody contacted me and asked me if I was okay, " adds Muara.
That's because, according to Superintendent Pia Durkin, she didn't find out about the incident until a week later. Now she's launched an investigation. "We need answers, why weren't we notified, " says Durkin.
When ABC 6 brought other violent incidents at the school to Durkin's attention earlier this year, the superintendent didn't think there was a concerning pattern. Muara says it's because the school is trying to brush it all under the rug. "She doesn't want to hear about the violence in the schools, " says Muara.
After 14 years at New Bedford High, Muara is calling it quits at the end of the year. She says if nothing is being done about the problem now, nothing ever will.
The student has been charged with assault. No word what kind of punishment he faces at school.