ABC-6 Reporter Mark Curtis: "The Sunday Political Brunch" April 7, 2013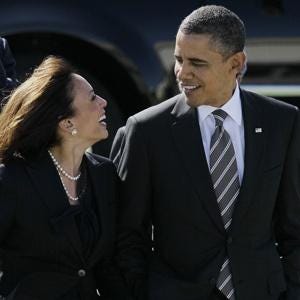 by ABC6 Chief Political Reporter Mark Curtis
(Providence,
Rhode Island) – When President
Obama called California Attorney General Kamala Harris "the best-looking
attorney general in the country" this week, I swore I was not going to write
about it in this column. There were other, more important issues to talk about,
I thought. Boy was I off target. Despite North Korea's nuclear threats and a
looming immigration bill that just might pass, the water cooler (and Internet)
debate is all over the President's remarks. So let's chat about it!
"What He Said" – I am a great believer in citing a direct quote
for accuracy purposes, even though people will dissect it for all the nuances.
Here it is:
"You have to be careful to, first of all, say she is
brilliant and she is dedicated and she is tough, and she is exactly what you'd
want in anybody who is administering the law, and making sure that everybody is
getting a fair shake," Obama said, then added: "She also happens to
be by far the best-looking attorney general in the country."
"The Divide" – In reading all the comments on Twitter and
elsewhere, I basically would categorize reaction in three groups: "It's Inappropriate,"
It's Sexist," and, "What's the Big Deal?"
"It's Inappropriate" – Right off the bat, the President
almost admits this by prefacing his remarks with, "You have to be careful…" It's
as if he knew he'd be criticized. While there were no video cameras allowed in
the fundraiser, there was a pool reporter whose job it was to take notes and
share with the rest of the White House press pool. It has been noted that
Harris and Obama have been friends for years, so one friend complimenting the
other on appearance or attractiveness is not unusual. If she was a total
stranger on a White House job interview, it would have been totally out of
bounds.
"It's Sexist" – Some took offense on gender grounds. When President
Obama nominated Chuck Hagel to be Secretary of Defense, he touted Hagel's
military experience. He did not add, "And Senator Hagel would be the most handsome
Defense Secretary we've ever had." The White House and Presidential defenders
note that before calling Ms. Harris "the best-looking," the President used the
words brilliant, dedicated, tough and fair to describe Harris' qualifications
to be Attorney General of California. Still, critics say the comment on her
looks, is a suggestion that Harris got her job based on her beauty first, and
not her qualifications.
"What's the Big Deal?" – A lot of online comments, from both
men and women, suggest that there is nothing wrong with a man complimenting a
woman, especially when they have been friends for years. Of course, doing so
from the podium of a political fundraiser versus one-one-one is a much
different dynamic.
"The Double-Standards" – This whole debate is becoming more
and more common place as more and more women hold office. When Michele Bachmann
ran for the Republican presidential nomination last year, I remember how many
people said words to the effect of, "Wow! She looks great at 57, especially after
having five kids." Such remarks were far more common on the campaign trail than
comments about the fact that she was a successful tax attorney, with a long
record in various elective offices. To some, at least, her looks were more
important than her accomplishments. On the other end of the spectrum, how often
have you heard disparaging remarks about the looks of Janet Reno, Janet
Napolitano and Condoleezza Rice? When called to public service, we are
hopefully more interested in competence and qualifications, than we are about
appearances. As Hillary Clinton might say, "What difference does it make?"
"Women Aren't Alone" – To couch this whole debate as
something women face and men don't, would be inaccurate, though I concede women
fall victim to it far more often. When Scott Brown ran for U.S. Senate in Massachusetts, there was
no end of stories about him posing nude for Cosmopolitan while in law school
(to help pay his tuition). Plenty of stories on Gerald Ford mentioned his days
as a professional model (he and Betty once appeared on the cover of Cosmo in
the 1940s). And to many, Ronald Reagan was aided on the road to the White House
by his "rugged, Hollywood good looks." There will always be those insist John
Kennedy defeated Richard Nixon in 1960, because Kennedy was handsome and Nixon
was not. Look, appearances make impressions on all of us. It's human nature. I
think the key is whether or not looks are the decisive factor!
"The Bottom Line" – I know Kamala Harris, as I covered her
campaign for San Francisco District Attorney, and part of her tenure in office.
We also had lunch together at a charity event in San Francisco years ago. I was impressed.
Whether you agree with her politics or not, she is a sharp, well-educated
woman, who is fully qualified for every office she has held. In 2010, she
defeated Republican Steve Cooley to become Attorney General of California in a
very close race, with 4.4 million votes for Harris, to 4.3 million votes for
Cooley. Harris ran as the sitting DA in San Francisco;
Cooley as the sitting DA in Los
Angeles. In a race that contentious – with two very
experienced candidates – the focus was on crime and punishment, business
regulation, immigration and a whole host of issues important to Californians.
It was hardly a beauty contest!
As always, I appreciate your thoughts! Click the comments
button at www.MarkCurtisMedia.com.
© 2013, MarkCurtisMedia, LLC