ABC-6 Reporter Mark Curtis: "The Sunday Political Brunch" August 18, 2013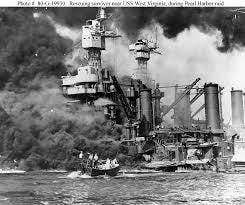 by ABC6 Chief Political Reporter Mark Curtis
(Providence, Rhode Island) – This past week Rhode Island celebrated Victory Day, marking the World War II victory over Japan. It is the only state in the nation that still declares a holiday for the anniversary. It made me wonder if the war effort was still appreciated enough. It also reminded me – that despite today's celebrity culture where famous people shoot off their mouths, but rarely back it up – that well-known people from many fields and political stripes stepped up in World War II. I wonder if today's actors, musicians and athletes would do the same. Read on:
"Hail to the Chief" – Every U.S. President from Dwight Eisenhower in 1953, to the end of George H.W. Bush's term in 1993, served during World War II in some way, shape or form. John F. Kennedy and George H.W. Bush nearly lost their lives defending the country, only to later serve in the White House. Jimmy Carter was in the U.S. Naval Academy during the war, and Ronald Reagan did all his service stateside, but all the others served either in Europe or in the Pacific. Even Lyndon Johnson served overseas while he was also a Member of Congress! Forty years of Presidential service following World War II. That's impressive!
"Second Fiddle Ain't Bad" – Aside from President and Vice President, several of the nominees for both offices who did not win, also served in World War II. They include Bob Dole, George McGovern, Sargent Shriver, Barry Goldwater, Lloyd Bentsen and Spiro Agnew. Plenty of eventual Senators including Dan Inouye, Phil Hart, Joe McCarthy, Ted Stevens and Jesse Helms also served. So, too, did noted Mayors Ed Koch and Coleman Young.
"Those Who Gave All" – Some of the famous Americans who died in service during World War II include bandleader Glenn Miller, actress Carole Lombard, journalist Ernie Pyle and political heir Joseph Kennedy, Jr.
"Athletes in Action" – It has always amazed me that so many professional athletes – in the prime of their careers – took leave of the playing field for the battle field. Baseball Hall of Famers Joe DiMaggio, Ted Williams, Warren Spahn, Stan Musial and Bob Feller all hung up their athletic cleats for combat boots. So, too, did football legend George Halas and boxer Rocky Marciano. Even professional wrestlers Freddie Blassie, and Reggie "The Crusher" Lisowski did their WWII stints, too. Can you fathom many professional athletes doing the same today? Yes, Pat Tillman left the NFL, to serve – and die – in Afghanistan. But he was the exception, not the rule.
"You're on Candid Camera" – Among the stars or future stars of TV and film to serve during World War II, were Carroll O'Connor, Jimmy Stewart (who became an Air Force Brigadier General), Ernest Borgnine, William Holden, Walter Matthau, Johnny Carson and Ed McMahon. Even some of the screen's eventual well-known ladies served in various capacities including Bea Arthur, Julia Child (in what is now the CIA) and Audrey Hepburn (as a supporter of the Dutch resistance).
"March in Time" – Many famous musicians and singers served their country in the military in the mid-1940s. They include Professor Longhair, Johnny Ace, Bobby Troup, Al Marino, Desi Arnez, Al Hirt, Nelson Riddle and Marty Robbins.
"The Naked Truth" – Say what you want about their post-war exploits, but Playboy founder Hugh Hefner and famed adult film producer Russ Meyers, also served in WWII. Others from somewhat unusual walks of life included cartoonists Bil Keane and Charles Schulz; comedians Carl Reiner and Mel Brooks; TV game show host Bob Barker; and TV journalists Mike Wallace and Harry Reasoner.
"Why it Matters" – There was a radio talk show debate the other day on whether Rhode Island should continue to make Victory Day a state holiday. There is a constant drum beat from some, that the day is insensitive to people of Japanese decent, given how the war ended (with no mention of how it began – Pearl Harbor photo above). The bigger issue to commemorate is that American's from all walks of life – including the privileged and the very famous – simply dropped everything, to defend their nation. I worry we've lost that collective sense of duty and responsibility. We saw glimmers of it post 9-11, but not the sustained effort as in the World War II era. The fact that we are still talking about "The Greatest Generation" sixty-eight years after the end of World War II is remarkable!
Your thoughts??? Click the comment button at www.MarkCurtisMedia.com
© 2013, Mark Curtis Media, LLC.