ABC-6 Reporter Mark Curtis: "The Sunday Political Brunch" August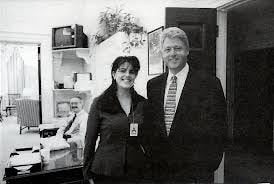 by ABC6 Chief Political Reporter Mark Curtis
(Providence,
Rhode Island) – We're under a
terror alert, there are political sex scandals galore, and a few more states
allowed gay marriages this week. Oh, and it's the President's birthday. The "Brunch"
is all over the map this week, so let's dine!
"She's Back!"- With all that's going on in the world of
politics, the last person I thought I'd be talking about this week is Monica
Lewinsky. But the National Enquirer has
obtained a15 year-old audio tape of the former White House intern trying to
send a lurid message to then President Clinton. According to a transcript she
said, "I could take all my clothes off and start… well.. I know you wouldn't
enjoy that?" And that's about as racy as the tape gets.
"I Promised I Wouldn't Mention Him" – I swore I would not
mention him this week, but I just have to draw the distinction between Lewinsky
and New York City Mayoral candidate Anthony Weiner. The PG-13 rated transcript
from a Lewinsky tape recording of 15 years ago seems comparatively tame to the
X-rated photos and "tweets" sent by Weiner. The instant Internet and social
media that did not exist in 1998 is a mega-force today. The Clinton-Lewinsky
scandal that seemed so monumental at the time now seems pale in comparison. Of
course one guy was the President; while the other is only a candidate for
mayor. But, oh how times (and technology) have changed our perspectives.
"The Hillary Factor" – I was doing commentary on KGO Radio
810-AM in San Francisco
this week and was asked about the impact of the newly revealed Lewinsky tape,
on the chances of Hillary Clinton becoming President. This whole issue gets
even more complicated – at least to some – because Weiner's wife Huma Abedin is
a long-time Hillary Clinton aide and protégé. My answer was that they'll be no
impact on Hillary at all. The theory put forth by the host was, "Wouldn't
Hillary's chances be better now, if she'd left Bill in 1998?" And, "Now Hillary
can't be credible, because she should have urged Huma to leave Anthony?" Look,
it's August 2013, light years away from August 2016 when Hillary may be the
nominee. The Lewinsky and Weiner scandals will not be factors, in my opinion.
"Shoulder Shrug of the Week"- There was so much
consternation in Rhode Island this week, because four member of the Westboro
Baptist Church came to town to protest the first day of legal same-sex marriage
in the Ocean State on August 1. At first gay marriage supporters asked the
local media not to cover the Westboro protest. Then – when censorship conscious
media outlets refused – the marriage equality folks decided a better idea was
to show up with a group of counter-protesters that was tenfold. The image of
them shouting down the Westboro folks was unmistakable. The first day of
marriages went on without further controversy.
"Where Did the Opposition Go?" – Delaware,
Minnesota and the District
of Columbia joined Rhode
Island as the recent adopters of same-sex unions.
While opponents don't agree with it, the issue of marriage and gay rights is
fading fast. Polls continue to show opposition to same-sex marriage in
strongest among people over 60, whereas people under 30 – whether they are
Democrat, Republican or independent – overwhelmingly have no problem with gay
marriage. It's an issue that seems to be fading into the sunset politically. Or
is it? Thirteen states now allow same-sex unions; whereas 28 states ban it in
one way or another. Many of those bans were implemented by ballot initiative.
One can imagine counter amendments in ensuing years, as older opponents on the issue
die. Where people stand on gay marriage is now largely generational, and that
can change public policy over time.
"Who's Minding the Store"- My larger concern in the backdrop
of the Weiner, Clinton (and, yes, even the Simon Cowell sex scandals), is that
the news coverage the last two weeks has been predominantly focused on that.
So, when a worldwide terror alert was issued Friday – first for U.S. Embassies
in predominately Islamic counties – and then for all U.S. overseas travel, it
made me wonder if our priorities were all backwards (both as a media, and as a
consuming public). When I spoke with U.S. Senator Jack Reed Friday – who may
soon chair the Armed Services Committee – it was clear this was a serious and
credible threat. The fact that it almost has to fight its way into the
headlines, by elbowing Anthony Weiner and Monica Lewinsky out of the way, is
bizarre.
"Happy Birthday, Mr. President" – President Obama is 52
today. To me it's weird to have a President two years younger than me, especially
since his hair is a lot grayer. Like his predecessors, the job has aged him.
I've covered politics and Presidents for over 30 years, and I still don't get way
they want that job so bad. High stress, low approval, and relatively mediocre
pay considering the importance of the job, makes many potentially good
candidates pass at the opportunity. But
then again there is the nice address, the personal chef Air Force One and the
other perks. All-in-all, I'm glad I'm on the outside of the White House,
looking in! Enjoy your birthday, Mr. President!
As always, let's hear your thoughts. Just click the comment
button at www.MarkCurtisMedia.com.
© 2013, Mark Curtis Media, LLC.