ABC-6 Reporter Mark Curtis: "The Sunday Political Brunch" June 21, 2013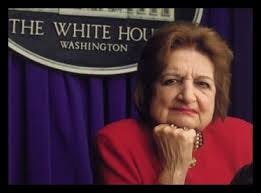 by ABC6 Chief Political Reporter Mark Curtis
(Providence, Rhode Island) – It's been 90 plus degrees here in New England almost all week. The peak of summer means politics is cooling off a bit, but still there's plenty to chat about. Here we go!
"Die with Your Boots On!" – My friend and colleague Helen Thomas died at the age of 92 this weekend. Whether you liked her, or despised her – and there were plenty of both – she had a profound impact on political journalism in this country for 50 years, and through 10 Presidents. I first met Helen in November of 1992, when I won a Congressional Fellowship in Washington, DC. After she spoke to my class, a bunch of us rode with her on a packed elevator in the Dirksen Senate Office Building. As she stood next to me in the crammed elevator, I attempted to break the awkward silence as she was pressed against me. "Helen when are you going to retire," I asked innocently. But with a loud, booming voice I was never expecting she fired back in my face, "Retire? I'll never retire. I'm going to die with my boots on!" The elevator was silent the rest of the trip.
"Can You Guys Hire my Nephew?" – A year later my Congressional Fellowship was over; and I was back to being a reporter, this time as a National Correspondent for the Cox Television stations. My dream had come true, as I was covering politics in Washington, DC. I sat nervously in the Old Executive Office Building next to the White House. President Clinton and Vice President Gore were about to come in and address the White House Press Corps, and I was its newest member. I had never been in the same room as the President or Vice President of the United States, let alone both. I was very nervous. All of a sudden I hear this familiar voice say, "Honey, is this seat taken? May I sit here?" I looked up and it was Helen Thomas. As I was sitting next to the last empty seat in the room, I invited her to sit next to me.
"Everybody Networks" – The President and Vice President were running late, and being the curious person she was, Helen Thomas wanted to know all about me. I reminded her of our first meeting in the elevator a year earlier (which I remembered, and she didn't), but when I got to the line about, "I'll die with my boots on," she laughed and said that was her standard response to the often-asked retirement question. As we talked, she kept pinching my right thigh and calling me honey, to which I took no offense. She was 71 and I was 34, so I didn't think anything of it, although it was odd. Finally she said, "Honey, do you have any openings at Cox? My nephew is trying to break into the business." Since I was the most recently hired, I told her I knew of no new openings. "Thank you, honey," she said, "Just let me know if you guys are hiring. Call me, honey!"
"You're That One I Yelled at in the Elevator!" – After that I saw Helen often at the White House, or on Capitol Hill, or at various press social functions. While I was not a regular daily visitor to the White House press room, we chatted a lot and developed a work relationship (no one really becomes friends in Washington, DC, as I found over the years). Anyway in early 1999, I was transferred to KTVU, Cox Television's station in the San Francisco market, so my frequent contacts with Helen Thomas came to an end. In August 2000, I was in Los Angeles for the Democratic National Convention. Since I worked the overnight shift, I hung out at the Westin Bonaventure pool during the day. I was walking through the lobby in my bathing suit, beer can in hand, returning to my room and I hear this familiar voice say, "Hey where have you been?" I looked over and it was Helen Thomas. I asked her how she remembered me, and she responded, "You were the one I yelled at in the elevator at the Capitol!" Pretty good memory for an event eight years earlier.
"Can You Do Our Show?" – I asked her if she wanted to be a guest on our show, the next day, and she quickly agreed. She had a new book out, and wanted to promote it. All she wanted was for Cox to hire a limo driver to get her to the Staples Center in the morning, which was no big deal. We exchanged numbers and said good bye. I ran to the nearest bookstore in LA to get copies of her book – one for me and one for my dad. My dad, while not necessarily fond of Helen Thomas and her politics, loved her longevity. He always loved my telling of the story about when she yelled, "I'm going to die with my boots on!" That was pretty much his attitude, too. My dad was 76 at the time, and was still practicing medicine.
"The Limo Ride from Hell" – The next morning, when she was set to do our show, Helen called me in a panic. "This limo driver has no idea where he is going, and they won't let him into the perimeter," she said. I sent an intern to sprint to the entrance of the Staples Center, and she and Helen Thomas ran back to our broadcast skybox. Yes, Helen Thomas ran – at age 80 – to our location. I got the microphone on her, and an earpiece, and all she said was, "Did you find my book?" I wanted her to sign a copy for me, and one for my dad, and had told her so. I thought it was dear that she was huffing and puffing and all she was concerned about was autographing books for me and my dad. After the interview she signed my dad's copy of her book with the message, "To Doctor Bill Curtis: Here's to dying with your boots on!" He cherished it!
"Cheers to a True Pioneer!" – The most memorable thing about Helen Thomas was a photo of the White House Press Corps in the early 1960s. There were about forty male reporters in the picture, but one lone female journalist – Helen Thomas. Today, after ten Presidents, that picture is markedly different. Thomas paved the way for a lot of young women in the political communications business, including my daughter, who has helped me cover the last two Presidential Campaigns. Helen Thomas was a pioneer for many women and a cantankerous veteran reporter who broke the mold. Getting to know her was a real hoot! Rest in peace, Helen!
As always your thoughts are welcome! Just click the comment button at www.MarkCurtisMedia.com.
(c) 2013, MarkCurtisMedia, LLC.