ABC-6 Reporter Mark Curtis: "The Sunday Political Brunch" March 23, 2014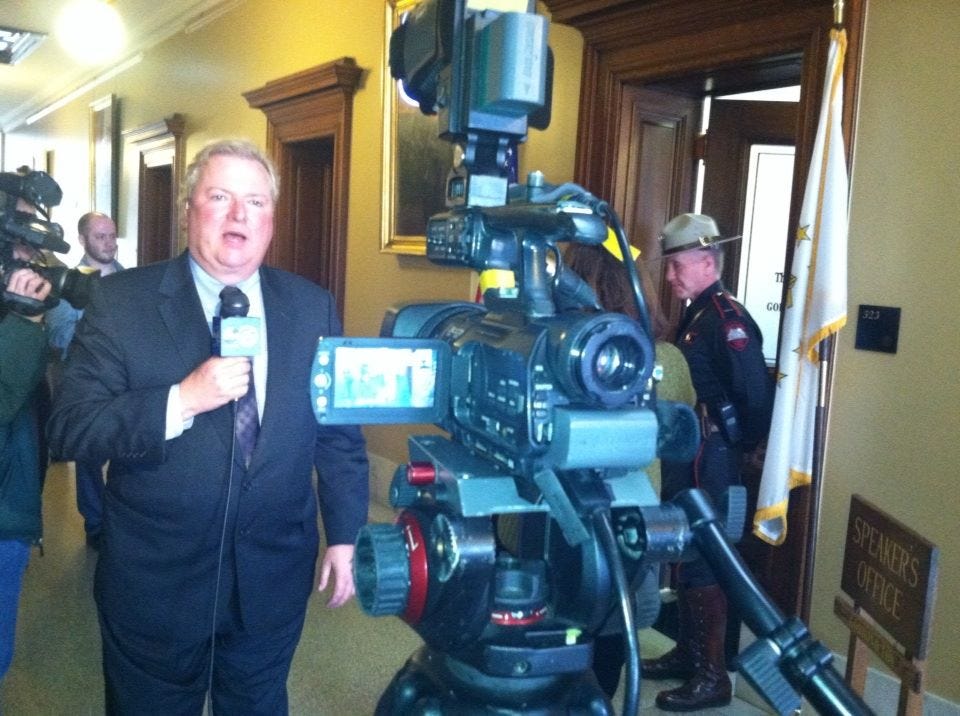 by ABC6 Chief Political Reporter Mark Curtis
(Providence, Rhode Island) – The big East Coast political news on Friday was the FBI, IRS and others raiding the home and State House office of Rhode Island House Speaker Gordon Fox (D). It may be the smallest state, but has had its share of political scandals over the years. So this week we look at a host of political shenanigans – big and small – that have made headlines over the years, here and elsewhere:
"Fox Guarding the State House" – Saturday Gordon Fox announced his resignation as Rhode Island House Speaker, the most powerful political office in the state. Fox has not been charged with any crime, nor have investigators said exactly what they are looking for. But, with the IRS involved, you know they are probably looking into money that Uncle Sam sent to the Ocean State. I was there as FBI and IRS agents hauled box after box of records out of his house and office (photo above). Stay tuned, as this story is still developing.
"Massachusetts Hat Trick" – Our neighbors to the north and east have seen their share of scandal. In 2009 Massachusetts House Speaker Sal DiMasi resigned and was later indicted and convicted on federal corruption charges. That made him the third straight House Speaker from the Bay State to leave office amid criminal allegations. Massachusetts is hockey country, so the three-and-out House Speakers constitute a political hat trick of sorts!
"Illinois Foursome!" – We all know about the legendary political corruption in Chicago where voting by dead people led to the coining of the phrase, "Vote early; and vote often!" Back-to-back Illinois Governors George Ryan and Rod Blagojevich were sent to prison this century. They joined former Governors Otto Kerner and Dan Walker who went to prison in the 1960s and 70s. That means four of the past seven Illinois Governors wound up behind bars. Wow!
"American Hustle" – One of this year's Best Picture nominees at the Oscars, was a fictionalized account of the "Abscam" scandal of the 1980s. That bribery case forced a boatload of public officials to resign or go to prison, including one U.S. Senator and six members of the U.S. House. Among the more colorful lawmakers who did not take the bait were longtime Rep. John Murtha (D-PA) who told the undercover agents trying to bribe him, "I'm not interested, I'm sorry." Sen. Larry Pressler (R-SD) went so far as to tell the bribers, "Wait a minute, what you are suggesting may be illegal." Pressler even reported the bribe attempt to the FBI. The moral is, they are not all crooked and corrupt!
"Pennsylvania Six Pack" – In 2012, six members of the Pennsylvania General Assembly were convicted on various charges, along with two of their staff members. It was called, "Bonusgate" and involved paying state employees to work on their campaigns, and giving them bonuses paid out of tax dollars. I mean it is one thing to pay people bribes of out your own pocket, but using taxpayer funds to pay the "bonuses" was even more galling.
"Nip and Tuck" – One of my favorite stories involves former Georgia School Superintendent Linda Schrenko (R) who was running for Governor. She stole $600,000 of money set aside for special educational programs, and used some of that money for plastic surgery on her face. Voters saw through her mask. She was not elected Governor and went to prison instead.
"Weird California" – The most populous state has had its fair share of political misdeeds, too, but often with a unique twist. One of my favorites was married State Rep. Michael Duvall (R-CA), who ran on a conservative, family values platform. Duvall, who was apparently not aware there was a live microphone nearby, was bragging to a colleague about two affairs he was having. While a cable TV audience was tuning in he said of one of his mistresses, "So, I am getting into spanking her. Yeah, I like it. I like spanking her. She goes, 'I know you like spanking me.' I said, 'Yeah! Because you're such a bad girl!'" When the quotes went public, Duvall was toast!
"Clinton-esque!" – As the above example shows, some political scandals are not about money or bribes, but rather lust. President Clinton survived impeachment after perjuring himself before for Federal Judge about an affair he had with White House intern Monica Lewinsky. His infamous quote to the public was, "I did not have sexual relations with that woman, Miss Lewinsky. I never told anybody to lie, not a single time. Never!" Clinton survived his impeachment, but late night comedians made sure he'd never live down the scandal. Fifteen years later, the jokes live on.
"Watergate" – Certainly the grand daddy of all political scandals was Watergate, which forced President Nixon to resign from office before he was to be impeached. Nixon – speaking before a convention of newspaper editors – probably delivered his most famous quote about the Watergate investigation, "…I welcome this kind of examination, because people have got to know whether or not their President is a crook. Well, I am not a crook." It's fascinating to note that politicians are often able to rebuild their careers and reputations after scandal, and Clinton and Nixon are two prime examples of that. Both became elder statesmen and hardly faded away.
There are too many federal, state and local scandals to mention here. What are your favorites? Let me know by clicking the comment button at www.MarkCurtisMedia.com.
© 2014 Mark Curtis Media, LLC.
Photo courtesy: WLNE-TV ABC6 News