ABC-6 Reporter Mark Curtis: "The Sunday Political Brunch" May 12, 2013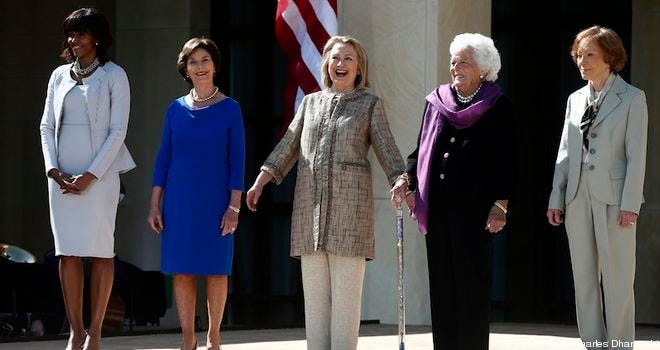 by ABC6 Chief Political Reporter Mark Curtis
(Providence, Rhode Island) – Happy Mother's Day to all! Being a mom is hard work and we are indebted to all of them. I would imagine being a mom in the world of politics is doubly tough, because you and your children live in the public eye and with a lot of scrutiny. So, today's column is about the highs and lows of being a political mom, especially in the White House. Five of the six living First Ladies recently posed for a photo at the dedication of the George W. Bush Presidential Library.
"White House Wedding Bells" – In away, it's kind of surprising. Only nine presidential children have been married in the White House. But weddings are a very personal matter and I am sure, for some, the public eye is just too much. After all, it's not the kids or the moms who ran for the office. The nine who married in the White House are: Maria Monroe, John Adams II, Elizabeth Tyler, Alice Roosevelt, Nellie Grant, Jessie Wilson, Nellie Wilson, Linda Bird Johnson and Tricia Nixon.
"White House Babies" – Only one Presidential child was actually born in the White House. First Lady Frances Cleveland gave birth to daughter Esther on September 9, 1893. The best I can determine, the U.S. Presidents and First Ladies have had a total of 153 children. President John Tyler was married twice, and his two First Ladies produced a total of 15 children, not all while he was in the White House, thank goodness.
"Death in the White House" – There is an old saying that no parent should ever have to bury a children. Sadly, six U.S. Presidents and First Ladies lost children while in the White House or after being elected, but before Inauguration. They are: John Adams, Thomas Jefferson, Franklin Pierce, Abraham Lincoln, Calvin Coolidge, and John F. Kennedy. In the movie, "Lincoln," the death of Willie Lincoln figures prominently, and the devastation of Mary Todd Lincoln was palpable. President Kennedy and First Lady Jackie lost their 2-day old son Patrick just three months before the President was assassinated.
"The Adams-Bush Connection" – Abigail Adams and Barbara Bush share a unique distinction among First Ladies – being both a wife and a mother to Presidents. Barbara Bush often said it was harder to watch the criticism of her son, compared to the criticism of her husband. Surprisingly, she is not thrilled about her son Jeb running for President in 2016. "We've had enough Bushes," said the always candid former First Lady recently.
"The Great Escape" – Susan Ford was a rebellious teenager, once giving the Secret Service the slip, and escaping the White House in her Mustang. Many Presidential children have been very young, but being a teenager with boyfriends, must have been a real challenge for the 38th President and his First Lady. I wish the Obama's well. One of their girls became of teenager in the White House, and the other will be a teen next year.
"The New Deal Marriages" – All five of President Franklin D. Roosevelt's adult children married while he was in the White House (one of them twice). None of the weddings took place at 1600 Pennsylvania Avenue, but Eleanor Roosevelt must have been quite the busy mother of the bride or groom. This is what happens when your husband wins four terms.
"What's For Dinner?" – President Ford's son Steve tells a great story about how the family did not move into the White House right away after the Nixon resignation. He said that one night his mom Betty said to his dad (now the President), "Jerry, something's wrong here. You just became President of the United States and I'm still cooking."
"Kennedy Matriarch" – Given the tragedies that beset her family I am always amazed that Rose Kennedy lived to be 104. She raised nine children, four of whom preceded her in death. In her biography she said, "I looked on child rearing not only as a work of love and a duty, but as a profession that was fully as interesting and challenging as any honorable profession in the world and one that demanded the best I could bring to it….. What greater aspiration and challenge are there for a mother than the hope of raising a great son or daughter?" Some of the old-timers at WLNE-TV ABC6, where I now work, say that Rose Kennedy would often call our newsroom on weekends from her home on Cape Cod, and thank us for broadcasting the Catholic Mass on TV. In her later years, it was her only way to attend services. God bless her!
Have a great Mother's Day! As always leave your comments at www.MarkCurtisMedia.com.
© 2013, Mark Curtis Media, LLC.