ABC-6 Reporter Mark Curtis: "The Sunday Political Brunch" November 10, 2013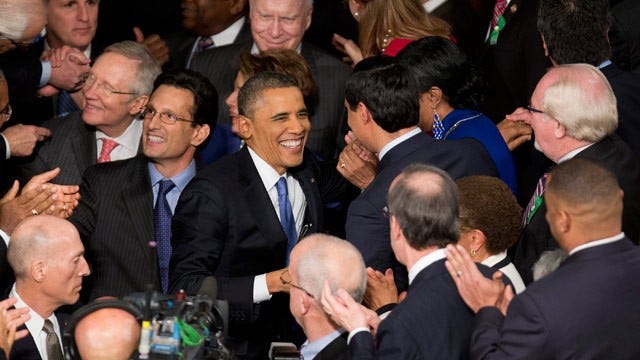 by ABC6 Chief Political Reporter Mark Curtis
(Providence,
Rhode Island) – The troubles with
signing up for Obamacare and its failed website continued this week. I have
raised questions about the potential political fallout in the 2014 elections.
Some have scoffed at that prospect, but history tells us that policy troubles
often lead to political troubles for the party in power – be they Democrats or
Republicans. Read on:
"I am Not a Crook!" – The fallout from Watergate and the
subsequent pardon of Richard Nixon cost the Republican Party dearly. In the
1974 election Republicans lost five seats in the U.S. Senate and 48 seats in
the U.S. House. Democrats already controlled both bodies, but this spread the
margin even wider. Sometimes, though, sea-change does not last long.
"There You Go Again!" – President Jimmy Carter came to Washington, D.C.
as an outsider, and may have departed four years later even more on the outs.
Carter presided over the worst economy since the Great Depression and U.S. world power was severely diminished by the Iran hostage
crisis. Carter lost the 1980 election to Republican Ronald Reagan in a
landslide. Democrats lost eight seats in the U.S. Senate as Republicans took
control of that body for the first time in 24 years. Democrats also lost 35
seats in the House, and while they did not lose control of the lower chamber,
there were enough moderate-to-conservative Democrats who teamed with Republicans
and gave President Reagan a "philosophical majority" in the House.
"Contract with America" – In 1992 – after 12 years
of Republicans controlling the White House – Democrat Bill Clinton won the
Presidency and had strong Democratic majorities in both houses of Congress. Now,
tell me if this sounds familiar – Clinton
pushed hard for health care reform and more restrictive gun legislation. That caused
a huge public backlash, and, in 1994, Democrats lost nine seats in the Senate
and 54 in the House and in the process lost control of both chambers of
Congress. It was one of the most crushing midterm election defeats for any
party in power, in U.S.
history.
"I am a War President" – By 2006, many Americans had grown
weary of President George W. Bush who was leading the nation in two wars. The
public was particularly incensed that weapons of mass destruction – the premise
for going to war in Iraq
– had not been found. The wars were expensive and there appeared no end in
sight. In the 2006 election, Republicans lost six seats in the U.S. Senate and
32 in the U.S. House, thereby losing control of both chambers of Congress. As
with President Obama now, Bush had already been reelected and would not face voters
again. But, members of Bush's party in Congress would face voters again and it
did not end well for many of them.
"If You Like Your Health Plan, You Can Keep It" – In 2010,
Democrats controlled both houses of Congress and the White House. Unlike 1993,
when infighting among Democrats doomed health care reform, this time the
President negotiated within Congress, instead of dictating policy from the
White House. It worked. Democrats cobbled together just enough votes to pass the
Affordable Care Act in both houses of Congress. The public was about equally
divided on the bill – and when it came to light that few Members of Congress
actually read the thousand-plus pages of legislation, voters were livid.
Democrats lost seven seats in the Senate and lost a whopping 64 seats in the
House, including control of the lower chamber. It was nothing short of a public
backlash.
"The Day of Reckoning" – When the Affordable Care Act passed
in 2010, it presented a dramatic change for the health care industry. For that
reason, its full implementation was not scheduled to take place until 2014.
Political cynics and political pragmatists alike also saw this as a strategy to
keep it out of the 2012 presidential election, helping President Obama win a
second term. True or not for 2012, the election of reckoning is now
approaching. With the Obamacare website in tatters, and the President
apologizing this week, this is now being framed as the main political issue
heading into the 2014 election cycle.
"Bombarding the Airwaves" – In these days of "fair use" on
media clips – where anything you say is fair game to be used against you – one
can envision a TV, radio and Internet ad that goes like this: (President
Obama): "If you like you plan, you can keep it! You can keep your doctor, too!"
– (Announcer): President Obama is not up for election this year, but Democratic
Congressman John Smith is…and Congressman Smith voted 'Yes' for Obamacare.
Republican candidate Fred Jones opposes Obamacare and if you send him to Washington, he'll vote
to repeal it! (Candidate): "I'm Republican Fred Jones, and I approved this
message!" The GOP could make "cookie-cutter" ads like this and run them against
every Democrat up for reelection in the House and Senate.
"Will They, or Won't They?" – The midterm elections are a
year away, and a lot could happen between now and then to change the face of
the election. The White House could get the Obamacare website fixed and running
like a Swiss watch, and the issue could go away. Or the troubles could
continue, and the issue will stay at the forefront. People in both parties know
it. When I spoke with Senator Sheldon Whitehouse (D-RI) this week he was quite
candid: "If they haven't gotten it fixed by the election a year from now,
than there should be hell to pay. But I think they are going to have it fixed
as they say, by the end of November (2013)," Whitehouse said. A GOP member
of the General Assembly had an even harsher assessment. State Rep. Doreen Costa
(R-RI) said, "This thing needs to be 100 percent abolished. And start from
the beginning because it's my understanding that between three and four million
people have already lost their health care insurance, and that's not
acceptable." Campaign 2014 is clearly underway!
Let me know your thoughts! Click the comment button at www.MarkCurtisMedia.com.
© 2013, Mark Curtis Media, LLC.
Photo courtesy: ABCNews.com