ABC-6 Reporter Mark Curtis: "The Sunday Political Brunch" October 20, 2013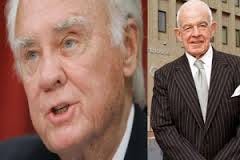 by ABC6 Chief Political Reporter Mark Curtis
(Providence, Rhode Island) – The government shutdown is over! Time to move on to other stuff in the world of politics! I am saddened this week by the deaths of two Congressman I got to know a bit in my years in Washington, DC. As a reporter, it is hard to really know lawmakers on a personal level, but I was lucky to occasionally meet House Speaker Tom Foley (D-WA), and House Appropriations Chairman Bill Young (R-FL) socially, as well as professionally. Their deaths reminded me of funny stories associated with both men (Young, on left in; Foley, on right in photo), as well as other humorous stories from my years in Washington, D.C. Here goes:
"Congressman Young; Young Wife" – When I went to Congressman Bill Young's office as a reporter for WFTV in Orlando, I was always treated well. I was a University of Florida grad, and had been a broadcaster in the Sunshine State fourteen years. One day when I was there, so, too, were the Chiefs of Staff for each branch of the military. Congressman Young went around the room and introduced me to General and Admiral so and so, and then said, "Mark I want you to meet my wife Beverly." At the end of the receiving line were two women: a gray, grandmotherly type, and an attractive young brunette. I extended my arm, as if in slow motion, not knowing whose hand to shake. I was mortified. Very discreetly, the gray-haired woman (about Bill Young's age), cupped her left hand and pointed to her left – with her right finger – and silently mouthed the words, "It's her," as she slightly nodded her head toward the much younger woman. I suspect my face was beet red, as I shook Mrs. Young's hand. My photographer David Chase and I laughed all the way back to the office.
"Who Are You?" – I went to Washington as a Congressional Fellow with the American Political Science Association. House Speaker Tom Foley was a huge supporter of our program and came to many of our social functions. I was having a drink with him at a reception in the Capitol when my old boss, Sen. Herb Kohl (D-WI), stopped by and asked if I could walk back to his office to discuss something. We said good-bye to Speaker Foley. As we got half way down the Senate steps a family bellow started cheering and applauding, and at the same time were snapping pictures and rolling their video camera. Both Senator Kohl and I presumed it was for him. But as we walked up to them, the man said, "Mark Curtis, we watch you every day from Washington on Channel 9 in Charlotte. We never thought in a million years we'd get to meet you!" I then sheepishly introduced them to Senator Kohl from Wisconsin, but it was clear, they had no clue who he was. As we walked away Kohl – who really had no big ego issues – laughed that I was now more famous than him.
"You Never Know" – One of the things I liked best about DC, is that you meet a lot of famous people just walking down the street. When I first moved there in late 1992 I was at a crosswalk waiting for the light to change. Up next to me walked House Minority Whip Newt Gingrich (R-GA). I turned and introduced myself and said, "Did you see Jay Leno's monologue last night?" He hadn't. So I recited a few jokes Leno made about President Clinton's difficulties finding a nominee for Attorney General. Gingrich howled. Then the walk light came on, we shook hands and he went his way and I went mine. Little did I know that in just two years I would be interviewing him often for WSB-TV in Atlanta and calling him, "Mr. Speaker!"
"Godspeed, John Glenn" – Back in 1998 when it was announced that John Glenn was going back into space, we rushed out to National Airport to interview him for WHIO-TV in Dayton. Senator Glenn still had his pilot's license and flew himself back and forth to Ohio from the nation's capitol. So with all of the press there, asking him about going back into space after 33 years, the Senator said good-bye and jogged over to his plane for takeoff. There was only one problem. One of the world's most famous astronaut's plane had a flat tire!
"All Aboard!" — The very first time I met John McCain. It was 1993, and I was a Legislative Aide, working in the U.S. Senate. Many people probably don't know this, but there is a small subway system which runs under the U.S. Capitol complex. Senate and House members–along with their staffs–use the subway to get to and from the Capitol. If you are a staffer who is seated and the train stops for a Member of Congress, you must stand up and offer your seat. I was sitting with Jim Borland, a friend from our days as Congressional Fellows, and up walked Senator John McCain of Arizona. Nervously we stood up, and I said, "Senator McCain, please have a seat." "No, no, guys, that's not necessary," McCain said. "I don't mind standing." Then, just as I sat down, McCain sat right down on my lap. He swung his legs up and placed them across Jim's lap. He put his arm around my shoulders, looked us dead in the eyes and said, "So, gentlemen, how are things going today?" We laughed nervously, but he stayed on my lap for the two-minute ride. When the strain stopped and McCain said good-bye and left, I said, "You know, if McCain ever becomes President of the United States, I am going to have one hell of a story to tell!" (From my book, "Age of Obama: A Reporter's Journey…in the Making of the President 2008).
"I'm as Mad as Hell!" – The public anger with the nation's capital, especially with the recent government shutdown, reminds me of a funny story. I was driving around one day with photographer David Chase, and as is so often the case, we could not find a parking space. So we kept circling the block, over and over again. Our only amusement was this man who was all alone on the street corner, just "shadow boxing" the air. The only problem was, while he kept punching the sky, his pants kept falling down. And there was nothing underneath. Nothing! This went on for about 20 minutes. Hundreds of cars must have driven past him, naked as a jay bird, punching the sky. As far as I know, no one ever called the police. He probably exhausted him self (from pulling his pants back up, as well as boxing), and eventually went home. You can't make this stuff up!
As always, I love to hear your views. Just click the comment button at www.MarkCurtisMedia.com.
© 2013, MarkCurtisMedia, LLC.
Photo courtesy: PrizrenPress.com