ABC6 Anchor Mark Curtis Takes Weight-Loss Challenge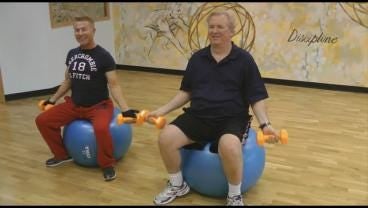 NORTH KINGSTOWN, RI – ABC6 Anchor Mark Curtis has been working on a new diet and exercise program. It got off to a great start. He lost a lot. But, then trouble hit when it came to resisting sugary treats. Here's part two of Mark's three-part series.
"It's back to the gym after losing 12 pounds in the first two weeks of the "Transformation Challenge" at "Fabulous Fitness" in North Kingstown. All seems OK. That is, until my weekly weigh-in: up two pounds from 257 to 259.
So, what happened? Well, based on my success, I thought I could treat myself, and that's about the time a "Death by Chocolate" cake was delivered to our newsroom.
"You badddd boy!!!!" says Eddie Brandt, Trainer at Fabulous Fitness.
Oh, come on, it was just one slice?
"Sugar is a drug to someone who has an eating problem," says Brandt. "It sets off a whole chain response in our brains."
OK, I confess. I cheated a few times during the week. Yes, "Death by Chocolate," a half of a donut. I gained some weight back. But I am bound and determined to lose that weight — and even more weight.
All right, it's back to heavy-duty workouts. And it's back to eating healthy. Take a look at my super bowl game-time menu: with baked, fat free, skinless buffalo chicken tenders. And, how about a tasty, blackened, shrimp salad. Of course, I'm sticking to my daily protein shake and vitamins, too. But, this isn't just about diet and exercise, it's a lifestyle change.
"Well, it's your old patterns," says Brandt. "And, now you have to develop new patterns. Remember it takes 28 days to make a new a habit."
And it seems to be working, for me and my classmates.
"I've already lost 25 pounds with working out, eating better and protein shakes," says Tricia Morency, who's also on the Transformation Challenge. "I come about 3 or 4 times a week!"
And, after three weeks, here's my weigh in: I went down another two pounds!
So, I've lost 14 pounds in three weeks. I'll be back for an update in another two weeks.
North Kingstown, Mark Curtis, ABC6 News.