ABC6 Debate: The Second Congressional District Candidates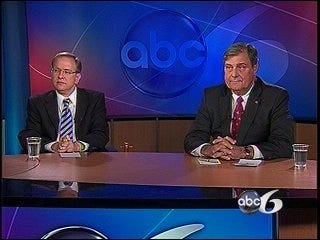 Incumbent Congressman Jim Langevin and Mr. Mark Zaccaria, the candidates for the 2nd District Congressional Seat, debated Wednesday night in our ABC6 studios.
We've uploaded the hour-long debate in its entirety, which you can watch right here.
John Deluca moderated the debate, and our panel of experts included ABC6 Chief Political Reporter Mark Curtis, WRNI Radio Political Reporter Ian Donnis, and New Media producer Reza Clifton.