ABC6 News Investigation: "Danger on a Dead End"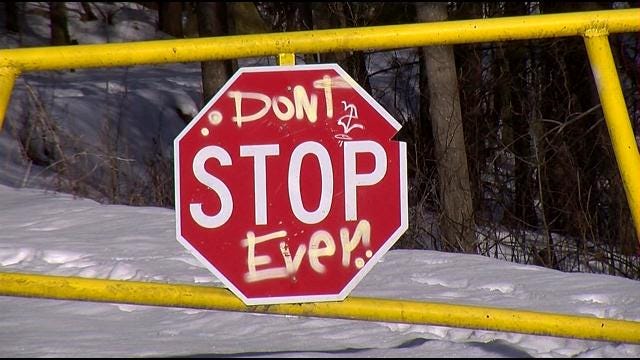 by ABC6 News Chief Political Reporter Mark Curtis
By all accounts the station tragedy in West Warwick was the worst fire in Rhode Island history.
Afterwards the state revamped fire codes and upgraded safety procedures.
But 11 years later has Rhode Island learned all of its lessons?
We ask, because ABC6 has uncovered another potential public safety nightmare in the making… "A Danger on a Dead End."
That dead end is in the "Centre of New England" development in Coventry.
It a sprawling 480–acre complex that includes big box stores, restaurants, hotels, homes, and, yes, even a nursing home.
"A lot of people go into that development everyday. And the likelihood of something bad happening is grave, and with reduced response time it doesn't help anybody out." Reporter question: Someone could die? "Somebody could die," said Chief Frank Brown of the Hopkins Hill Fire Department.
Here's the problem: The Centre of New England Boulevard – the main road through the complex – was never finished.
It dead ends on the west side, not far from the Hopkins Hill Fire Station. It also dead ends on the east side where all the businesses are.
The missing link of road is about 500 feet.
ABC6 News Chief Political Reporter Mark Curtis said, "The Hopkins Hill Fire Chief has now been trying for seven years to get these two disconnected pieces of roadway connected, to improve emergency response, and save lives."
We went to "Google Earth" to show just how bad this is.
If the road was finished, it would only take about three minutes to get to an emergency at the Home Depot.
But with the road unfinished, rescue personnel must drive south on Hopkins Hill Road, and under I–95 to Division Road.
Then ride east to New London Turnpike, and back to the other entrance of Centre of New England Boulevard.
Response time is doubled — 6 minutes or more, depending on traffic.
"Certainly if our response time is six minutes, I mean after somebody has stopped breathing, after six minutes, brain damage starts to take place," Chief Brown said.
All this is very unsettling to people who work and live here.
"Because they could just zip right down here with no problem," said Paul Hyink
Hyink lives in a "Centre of New England" condominium. He was out walking Monday morning, and is angry and frightened, because the road is still unfinished.
"Yeah, yeah, I had a double bypass several years ago, so yeah, I'm worried," Paul Hyink said.
Sources tell ABC6 the development is now in receivership with no money for constructing a bridge over wetlands, that could connect the dead ends.
"It's very foolish. You know really if you look back at the whole thing – probably nothing should have ever been built down there, unless the road was put through first," said Chief Brown
Making matters worse, the other nearby fire station in Central Coventry is closing in May.
So, until the road is done, people just have to wait – and hope – the worst doesn't happen.
Now we tried to contact the developer by phone and email, but never heard back.
The court appointed receiver tells me that it will cost at least one million dollars to finish that road, because it must pass over environmentally sensitive wetlands.