ABC6 Political Analyst Buddy Cianci diagnosed with cancer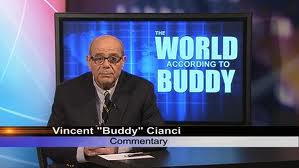 ABC6's chief political analyst and former Providence Mayor Vincent Buddy Cianci has been diagnosed with cancer.
He released the following statement on Monday afternoon:
"I have been absent from the airwaves for the past week due to hospitalization for a recent diagnosis of cancer. I wish to assure my friends and loyal listeners that I am receiving the most advanced quality of care from the remarkable healthcare professionals and staff at The Miriam Hospital. I am heartened by opinions that the cancer is completely curable, and the prognosis is for a full recovery. While I will undergo treatment over the next few months, I plan to be back behind the microphone next week. At that time, I hope to speak to some of the legions of fellow Southern New England residents who have confronted and conquered cancer.
In all of the challenges I have encountered in my personal life, and in my career, there is an overriding life lesson that I have learned as a result of my diagnosis. And that is to fully appreciate the competence and compassion of doctors, nurses, and supporting specialists and staff who dedicate their lives to treating and caring for those with cancer and other serious illnesses.
I am grateful to have the opportunity to heal and recover at this time, as I look forward to what I anticipate to be a full and active schedule this summer and fall.
However, as has been my tradition, Tuesdays remain reserved as my bowling night!
Thank you in advance for any positive thoughts and prayers sent my way."
ABC6 wishes Buddy the best in his recovery. He is expected to return to the air next week.