ABC6 Stormtracker Weather Online
Forecast: Thursday, March 19, 2020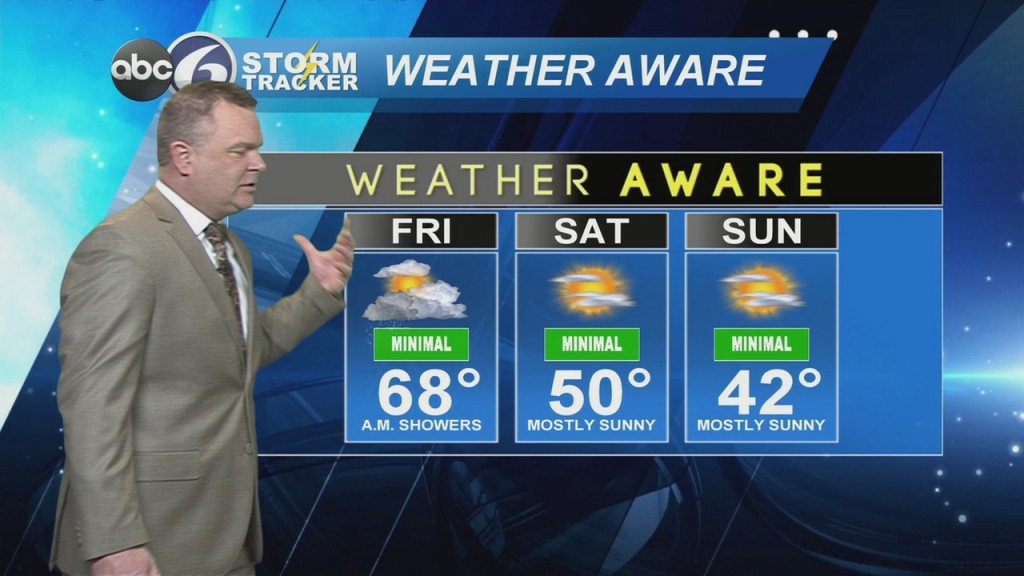 Clouds, fog and drizzle most of the overnight. Scattered showers return to the area by daybreak, arriving after 5 A.M. Low to mid 40s.
Morning showers for Friday, afternoon clouds and breezy. Winds will gusts to around 25 MPH out of the Southwest. So the sea breeze effect in full force, meaning 60s to near 70° inland…upper 50s for the immediate coastal locations. If we can get into a little sunshine for inland locations during the afternoon, a few low 70s are likely.  Friday night, still one ore chance of rain. A cold front will slip South and through the area during the evening. A chance for thunderstorms Northwest of our area, eventually becoming of narrow line of just scattered showers. After 10 P.M., gradual clearing. Low 40s.
Saturday, a few early clouds, otherwise mostly sunny. High temps around 50°. Saturday night, clear and cold. Mid to upper 20s.
Sunday, more sunshine, but cool. Low 40s. Sunday night, mid to upper 20s with clear skies.
Monday, Monday night and Tuesday morning. A big huge heads up here! Storm will track close to the area. At this time, scenarios include a complete miss to a snowstorm. Yep, the spread is that impressive. Updates will keep coming, for now I have left it cloudy with scattered RAIN showers…track and enough cold air can work into the system would change the thinking. Low to mid 40s based on a "non-snow" track for high temps both days, overnight lows in the mid to upper 30s.
Regardless of the impact of the early week storm, another system will bring rain showers late Wednesday afternoon through Thursday morning. Low 50s by day, Around 40° by night.
ABC6 Stormtracker, Jeff Desnoyers
Email: jdesnoyers@abc6.com