ABC6 Stormtracker Weather Online
Forecast: Monday, March 30, 2020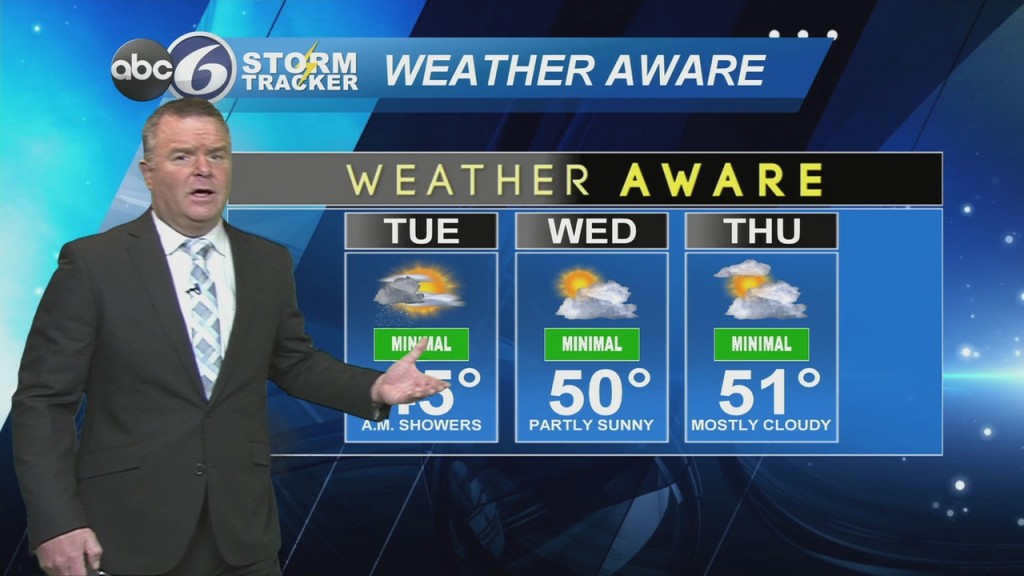 Scattered showers overnight, ending by daybreak. Precipitation may end as some rain and snow mixed. Mid 30s overnight.
Tuesday, early rain or snow shower, otherwise a very slow, gradual clearing process. Looks like some sun for the afternoon at times. A cool day, temps only reaching the mid-40s. Tuesday night, partly cloudy and chilly. Low to mid 30s.
Wednesday, partly sunny. Around 50°. Wednesday night, mostly cloudy. A few showers for Eastern Mass. Upper 30s to near 40° overnight.
Thursday, mostly cloudy. Around 50°. Thursday night, scattered showers. Low 40s.
Friday, early showers, slow clearing for the afternoon. Around 50°. Friday night, partly cloudy. Mid to upper 30s.
Saturday and Sunday, partly sunny for both days at this time. Low to mid 50s. Night temps in the upper 30s. Another round of rain showers will return to the area Sunday night.
Monday, partly sunny. Mid 50s.
ABC6 Stormtracker, Jeff Desnoyers
Email: jdesnoyers@abc6.com