ABC6 Stormtracker Weather Online
ABC6 Weather Online - Monday, March 2, 2020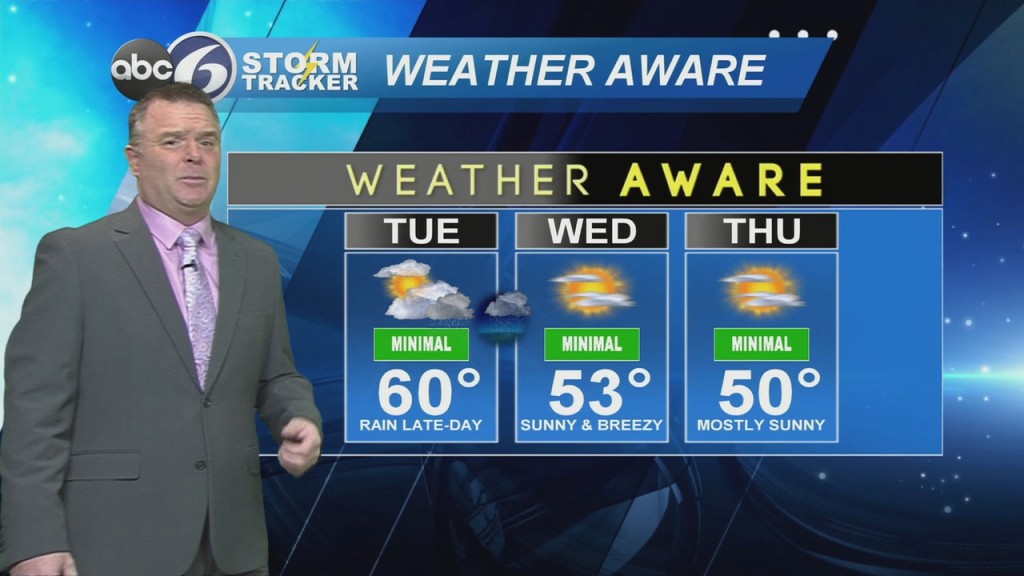 Scattered rain showers tonight, mainly between 10 P.M. and 3 A.M. Breezy and mild. Southwest winds will gust to 25 MPH and temps will hold the low mid 40s overnight. Patchy fog by daybreak.
Tuesday, plenty of clouds, limited sunshine and mild. Near 60°. (Low 50s coast). Southwest winds 5-15 MPH. Rain, arrives for the evening. and scattered showers can be expected for the overnight. Mid 40s.
Wednesday, sunny and breezy. Low 50s. Mid 30s Wednesday night with clear skies.
Thursday, more sunshine, less breeze. Around 50°
Friday, afternoon rain showers. Mid to upper 40s. Friday night, storm system just off the coast. Still 4 days out and track certainly not ironed out, but at this time rain will change to snow Friday night and end early Saturday morning. Sun by the afternoon. At this time, heaviest snow looks to remain over the ocean, but updates to come as the system needs to be watched very closely. Regardless of how much snow, Saturday is a cold day with temps in the 30s.
Sunday, after turning the clocks ahead one hour overnight (Daylight Saving Time Begins), plenty of sun and nice. Mid to upper 40s. Any snow that does fall will start melting fast. By Monday, temps back in the 50s with more sunshine.
ABC6 Stormtracker, Jeff Desnoyers
Email: jdesnoyers@abc6.com