ABC6 Stormtracker Weather Online
Forecast: Wednesday, March 11, 2020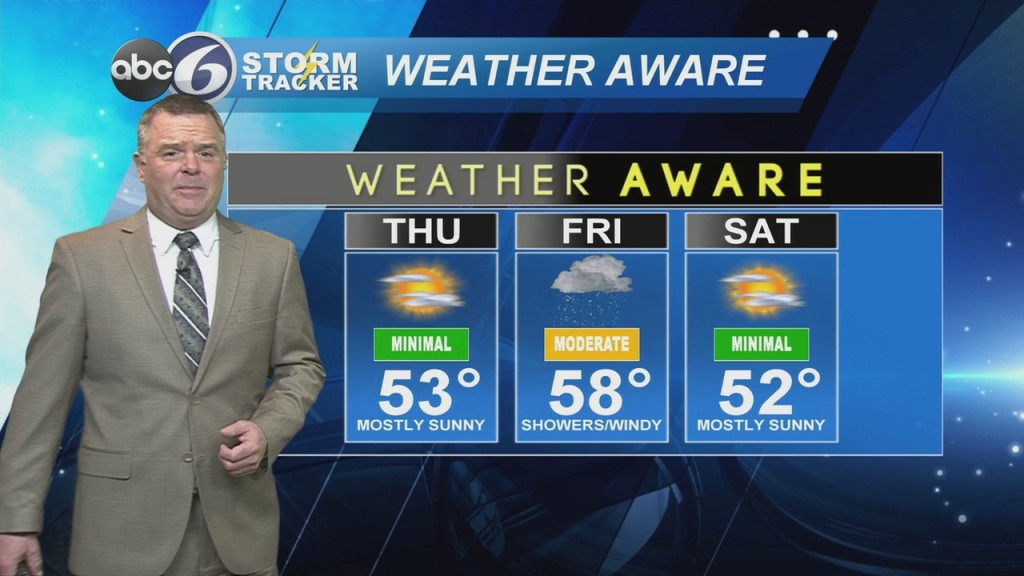 Clouds early, clear late. A bit colder tonight, but not bad for early to mid March. Low to mid 30s.
More sun Thursday with temps around 50°. Thursday night, clouds with scattered rain showers after midnight. Around 40°.
Friday, a MODERATE WEATHER AWARE DAY. Showers and windy. Rain may be heavy at times. Winds gusts 30-35 MPH. A warm day with temps near 60°. Friday night, the showers end early, the clouds clear by morning. Upper 30s.
Saturday, sunny. Low 50s. Saturday night, clear and colder. Around 30°.
Sunday, sunny and nice. Mid to upper 40s. Sunday night, clear and chilly. Upper 20s and low 30s.
Monday, sunny. Mid-40s.
St. Patrick's Day, cloudy with showers. Low 50s.
Wednesday, partly sunny. Mid to upper 50s.
Thursday, chance of showers. 50s. Spring officially arrives at 11:50 P.M.
ABC6 Stormtracker Meteorologist, Jeff Desnoyers
Email: jdesnoyers@abc6.com