ABC6 Stormtracker Weather Online
Forecast: Tuesday, March 17, 2020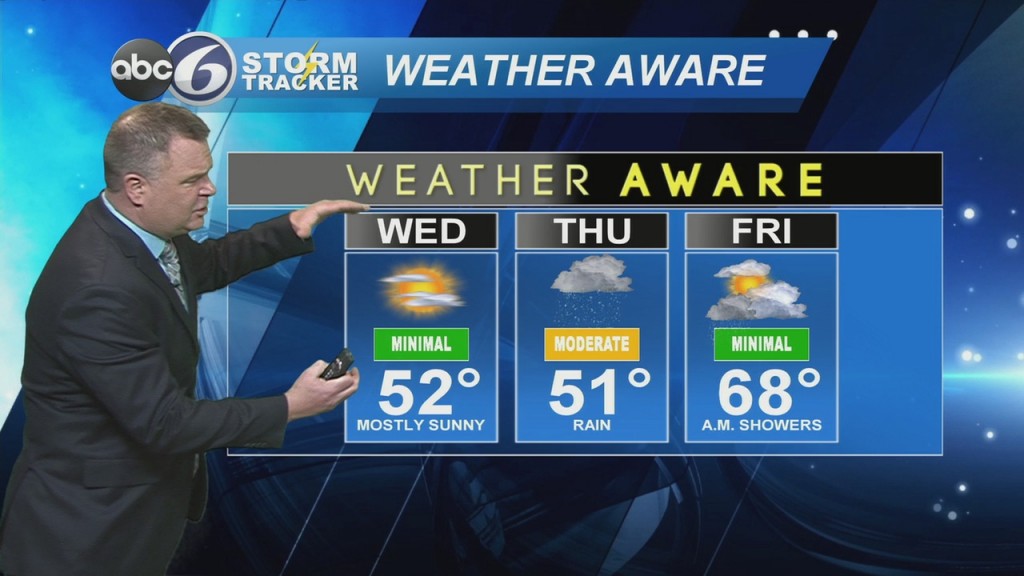 Clearing skies tonight. Low to mid 30s.
Mostly sunny for Wednesday. Around 50°. Increasing clouds Wednesday night with a chance of rain by daybreak. Locations in Northern and Northwest R.I. may have some snow mix in briefly during the morning. Mid to upper 30s.
Thursday, rain likely. Rain will be heavy at times. Around 50°. Thursday night, scattered showers remain in the forecast. A mild night, mid to upper 40s.
Friday, early morning showers, plenty of clouds to fight through. If we can get into some sun for the afternoon, not a bad day. Keep the clouds, more of a grey day. Regardless, it is a mild day. Well into the 60s inland, around 60° at the coast. Breezy with wind gusts 25-30 MPH. Friday night, partly cloudy. Low to mid 40s.
Saturday, a mix of sun and clouds. Low 50s  Saturday night, mostly clear. Around 30°.
Sunday, sunny and cooler. Low to mid 40s. Sunday night, upper 20s with clear skies.
Monday, mostly sunny. Upper 40s.
Tuesday, cloudy with rain showers. Around 50°.
ABC6Stormtracker, Jeff Desnoyers
Email: jdesnoyers@abc6.com