ABC6 Stormtrackers Online Weather Forecast
Forecast: Tuesday, March 10, 2020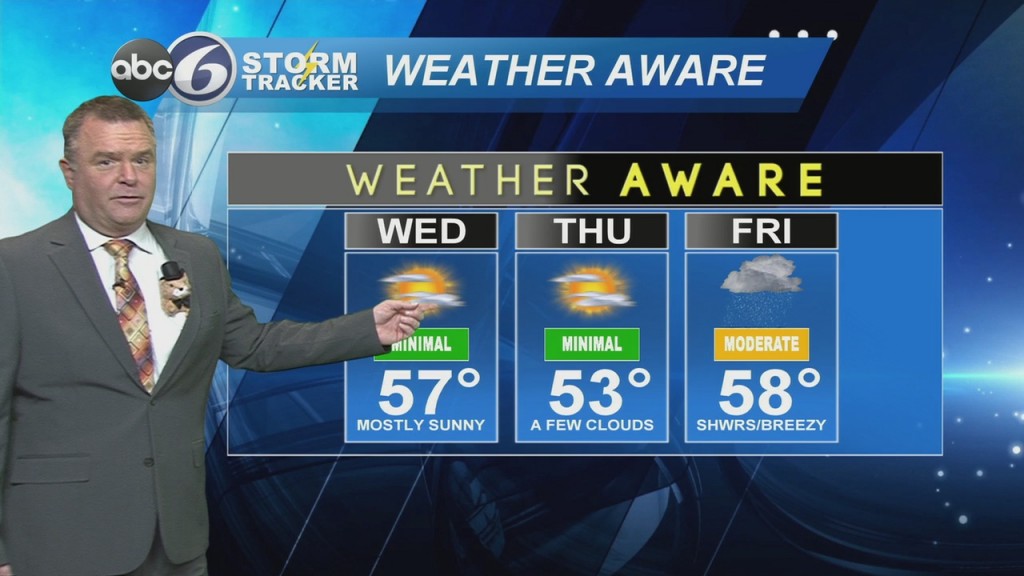 Scattered showers tonight and breezy. Low end rain totals part of a cold front that will swing through the area overnight. Low to mid 40s.
Wednesday, mostly sunny and mild. Air mass hardly changes behind the front, therefore temps right back to the mid to upper 50s for Wednesday afternoon. Wednesday night, mostly cloudy. Mid to upper 30s.
Thursday, sunny again. Low to mid 50s. Thursday, cloudy. Showers likely after midnight. Around 40°.
Friday, scattered showers, breezy and mild. 50s to near 60°. Friday night, showers taper off early. Around 40°.
Saturday, mostly sunny. Around 50°. Saturday night, clear and colder. Around 30°.
Sunday, mostly sunny. Around 50°. Sunday night, clear. Low to mid 30s.
Monday, mostly sunny. Mid to upper 40s.
St. Patrick's Day, cloudy with showers . Low 50s.
ABC6Stormtracker, Jeff Desnoyers
Email: jdesnoyers@abc6.com