ABC6 Stormtrackers Weather Online
Forecast: Friday, March 13, 2020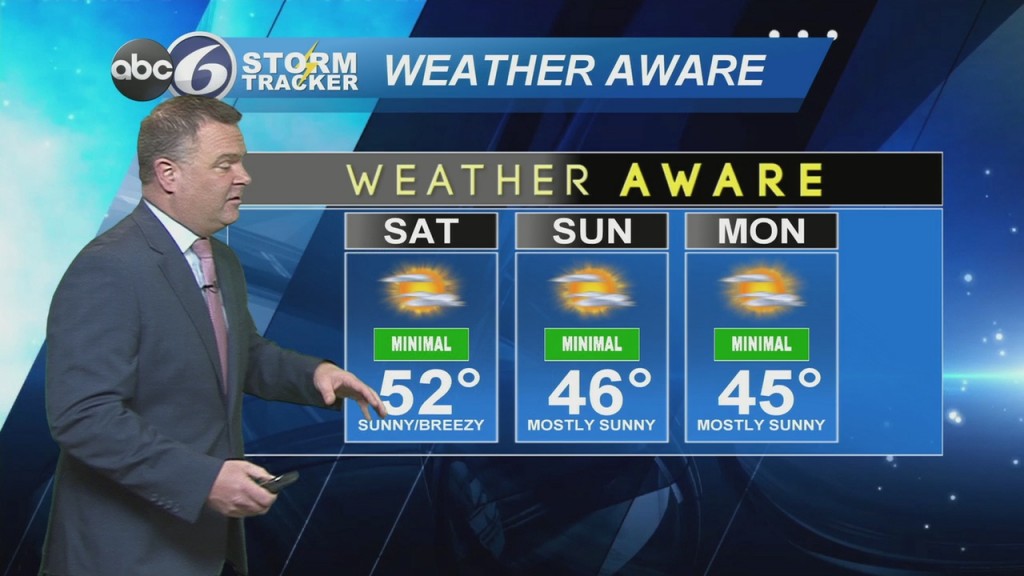 Clearing with diminishing winds overnight. Mid to upper 30s.
Saturday, sunny and breezy. Gusts to 25 MPH out of the West for the afternoon. Temps in the low 50s. Saturday night, partly cloudy. Low 30s.
Sunday, sunny and cooler. Low to mid 40s. Sunday night, clear and cold. Mid-20s.
Monday, more sun and cool. Low to mid 40s. Monday night, increasing clouds. Low 30s.
St.Patrick's Day, showers…mainly during the afternoon. Around 50°. Tuesday night, clearing. Around 40°.
Wednesday, sunny and cool. Mid-40s. Wednesday night, low to mid 30s with mostly clear skies.'
Thursday, sunny and seasonable. Mid to upper 40s. Thursday night, increasing clouds. Low 40s. Spring arrives at 11:50 P.M.
Friday, the first full day of Spring, showers likely and mild. Breezy too. Around 60°.
ABC6Stormtracker, Jeff Desnoyers
Email: jdesnoyers@abc6.com