ABC6 Stormtrackers Weather Online
Forecast: Friday, March 20, 2020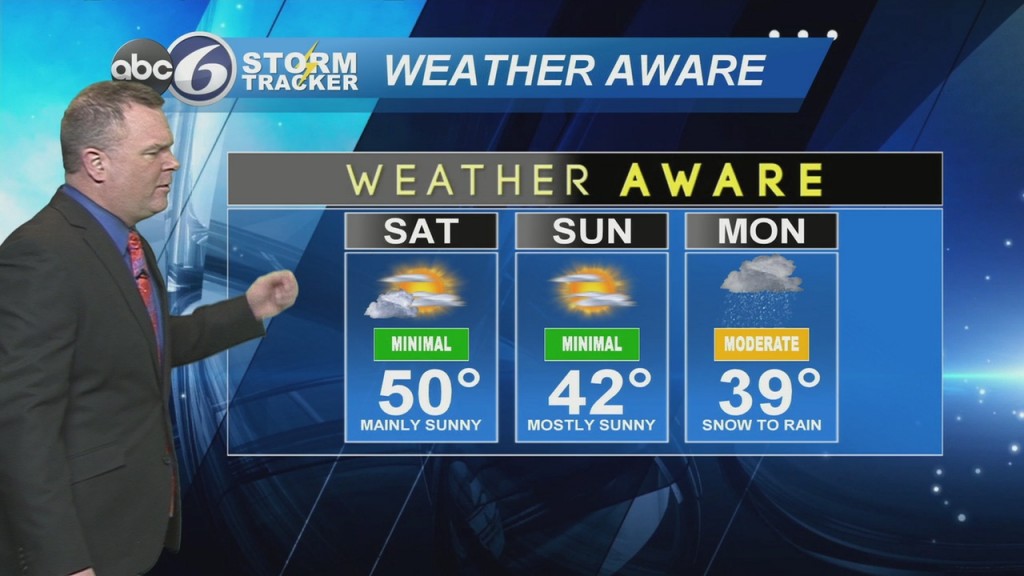 An isolated shower this evening, otherwise breezy with clearing skies by morning. Winds turn Southwest to Northwest and will gust to 25 MPH. Temps around 40°.
After some morning clouds to start the day, Saturday will feature plenty of sunshine. Near 50°. Saturday night, clear and COLD! Mid to upper 20s. Brrrrrr!
Sunday, sunny and cool. Around 40°. Sunday night, mainly clear and cold again! Mid to upper 20s.
Monday, slight chance of of snow and rain mixed earlier, otherwise mainly rain for the afternoon. A cold rain, temps only around 40°. Monday night, rain showers. Mid 30s.
Tuesday, partly sunny. Low 50s. Tuesday night, mostly cloudy. Mid-30s.
Wednesday, afternoon showers. Near 50°. Wednesday night, showers likely. Upper 30s.
Thursday, morning rain showers. Come sun for the afternoon. Mid to uppr 50s. Thursday night, next chance of rain arrives after midnight. Low 40s.
Friday, rain. Mid to upper 50s.
ABC6Stormtracker, Jeff Desnoyers
Email: jdesnoyers@abc6.com