ABC6 Stormtrackers Weather Online
Forecast: Tuesday, March 24, 2020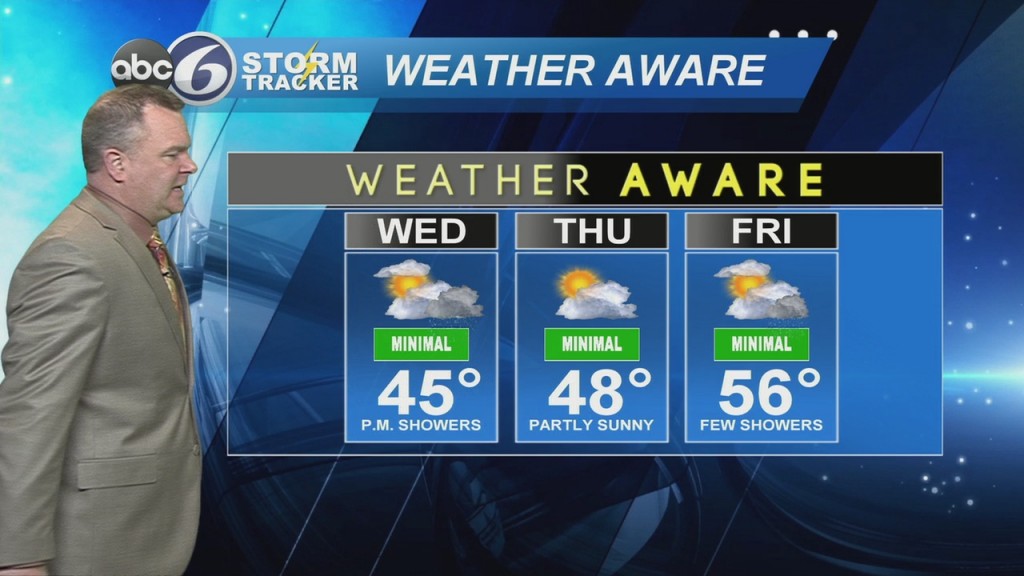 Mostly cloudy tonight. Mid to upper 30s.
More clouds for Wednesday morning, a few showers arriving mid to late afternoon. Highest chance for rain showers will be at the coast as an area of low pressure tracks well to out South and just brushes the area with some light rain. Mid-40s. Wednesday night, a few showers. Upper 30s.
Thursday, clouds for the morning, a better chance of sun for the afternoon. Around 50°. Thursday night, partly cloudy. Around 40°.
Friday, mostly cloudy with an isolated shower. A milder day with temps well into the 50s. Friday night, partly cloudy. Upper 30s.
Saturday, plenty of clouds with a little bit of sunshine. Low 50s. Saturday night, another round of rain. Around 40°.
Sunday, rain. Low to mid 50s. Sunday night, rain tapers off early, partly cloudy overnight. Around 40°.
Monday, a mix of sun and clouds. Low 50s.
Tuesday, mostly sunny. Low 50s.
ABC6 Stormtracker, Jeff Desnoyers
Email: jdesnoyers@abc6.com