ABC6 to air news series on Foster Care "Fostering Fridays"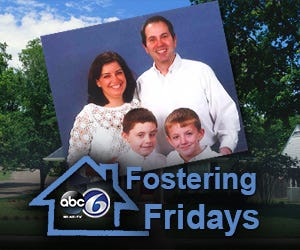 Child
& Family invites you to watch ABC6 this Friday for "Fostering Fridays," a
monthly news feature focusing on the positive – life changing aspects of
becoming involved with fostering a child in Rhode Island. The first segment will air
during ABC6 News This Morning between 5-7 am and again during ABC6 News at 5pm.
On
the second Friday of every month, ABC6 This Morning anchor Doreen Scanlon will
feature local families, making a difference in the lives of the children in
their care. The series goal is to
increase awareness and visibility around the need for foster families in Rhode Island with
segments that share life-changing stories and important information about
foster care and the vital role it plays in the lives of hundreds of children
each and every day.
"Fostering
Fridays" is collaboration between Child & Family and ABC6 and made possible
through the generous support of Regan Heating & Air Conditioning.