ABC6 Weather Online – Monday, March 2
ABC6 Weather Online - Monday, March 2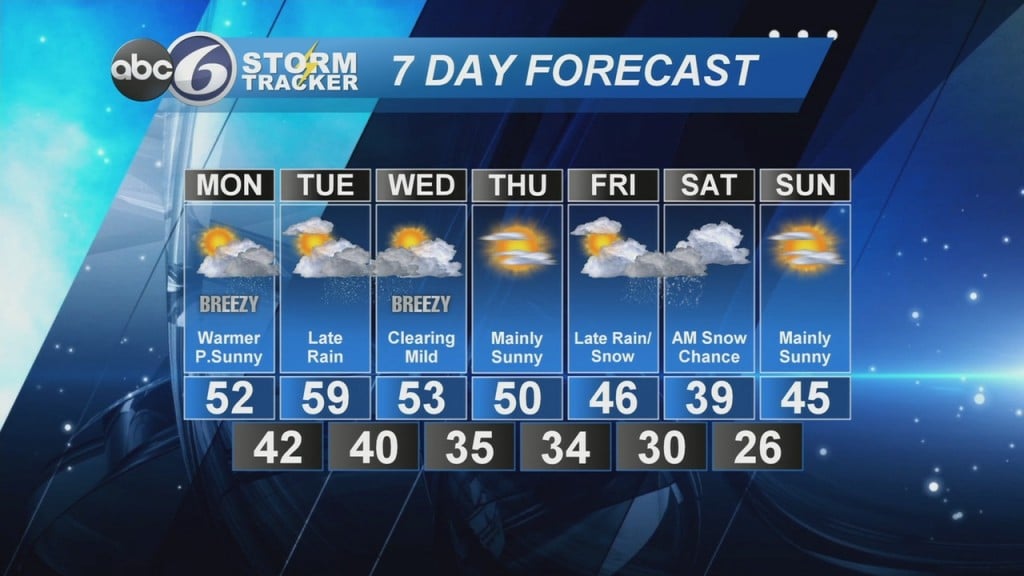 Partly sunny and chilly this morning but much warmer air will be moving in for the upcoming days. A mix of sun and clouds with breezy conditions from the south today expected. Highs will be in the low 50s. The breeze backs off a bit overnight and we stay mild, lows in the low 40s. Some scattered, light rain showers expected.
Tuesday will be very mild, expect highs close to 60°! Expect a mostly cloudy day with late day/early evening rain coming back into the area. Overnight rain will continue into early Wednesday. Wednesday we gradually clear out with the breeze picking back up, highs still in the low to mid 50s.
Thursday will be really nice with plenty of sun, morning temperatures in the mid 30s and afternoon highs around 50°.
Watching a system for Friday into Saturday that could *potentially* bring us some snow! Still a lot of details to figure out and there's still the possibility that the system passes farther away from us and we don't see much at all, more to come as the week goes on!
Chelsea Priest, ABC6 StormTracker Meteorologist