ABC6 WeatherLab – Hurricane Arthur Recap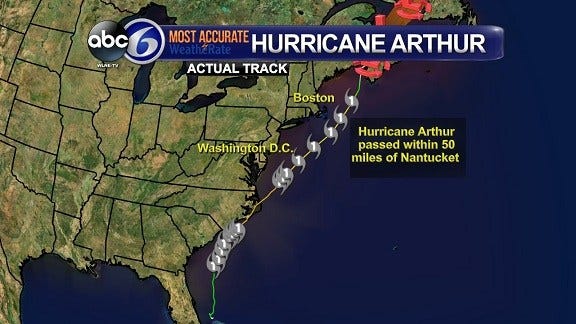 The 2014 Atlantic Hurricane season is already more impressive than last year's season, if for no other reason than Hurricane Arthur managed to become a Category 2 hurricane while moving up the East Coast. And that is stronger than ANY hurricane from the entire 2013 Atlantic hurricane season. And we've still got over 4 months remaining in the 2014 hurricane season.
Hurricane Arthur brought flooding rains (8″ in New Bedford, and 2.68″ in Providence, which was a new record for July 4th in the capital city). The worst of the wind was seen on the Cape/Islands, where NE wind gusts of 55 to 65 mph were measured at the height of the storm on the night of July 4th. Much of the MA South Coast, and the Cape/Islands experienced flash flooding and power outages, while most of the interior got out relatively unscathed.
For a hurricane season that is supposed to be weaker than normal, having a hurricane make it to the SNE coast in early July is a bit unexpected. But around here we've learned to expect the unexpected.
-Kevin Coskren, ABC6 StormTracker WeatherTeam
@kcoskrenABC6