ABC6 WeatherLab – Marine Layer and Thunderstorms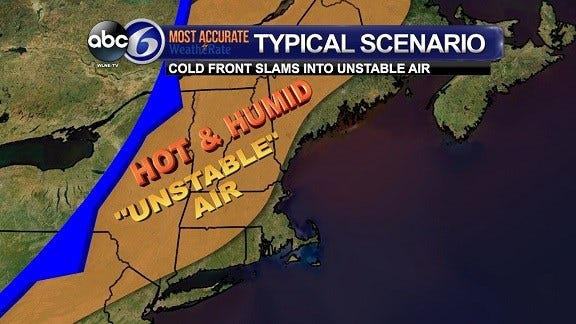 A lot of people wonder why southeast New England doesn't get as much severe thunderstorm activity as northern and western New England. It's a fact that areas south of a line from Hartford to Boston get fewer severe thunderstorms than our neighbors to the north. The biggest reason for this is a relatively dense, more stable layer of air that is often present in Rhode Island and southeast Massachusetts when thunderstorms are approaching from the northwest (usually out ahead of a cold front). This more stable layer of air is called a "marine layer", and it is not conducive to thunderstorm growth. When a cold front approaches from the northwest, that means southern New England will have south winds, which brings the "marine layer" inland. So when the thunderstorms eventually hit this more stable air, they typically weaken.
Another reason southeast New England gets fewer severe thunderstorms is because a typical storm track in the Northeast brings low pressure systems from the Great Lakes into northern New England, which in turn sends cold fronts through all of New England. Well, the farther
away from the center of low pressure you go, the weaker the "push" of the cold front, so dynamically, you're dealing with less "forcing" for thunderstorms. And geographically, southern New England usually ends up on the tail end of these cold fronts as they move in from the northwest, so we get less forcing.
Thunderstorms need two things to survive: Unstable air and some type of forcing (usually a frontal boundary). It just so happens that southeast New England usually is lacking in both of these departments when it comes to a typical cold-front-driven thunderstorm situation in the Northeast. But don't worry, no one can take away our Nor 'Easters!
My thanks to ABC6 Weather Intern and New England Regional Weather Service Forecaster Christian Plaud for his help with this edition of ABC6 WeatherLab.