ABC6Exclusive: Kent Hospital patient questions staffing after finding a blood vial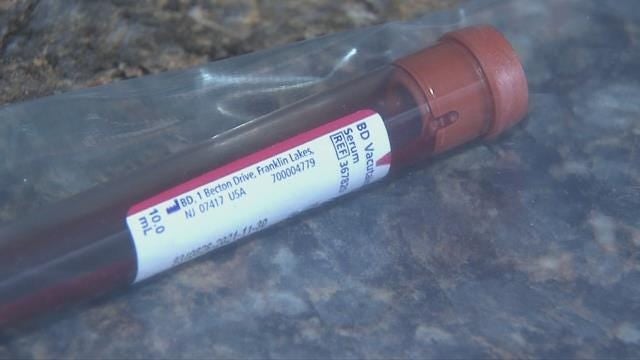 WARWICK, R.I. (WLNE): A Warwick man found a blood vial in his pocket after coming home from Kent Hospital on Monday for a seizure. He said he most likely took it accidently; now he and his girlfriend want answers as to why the blood vial was unattended with no patient name.
He wonders if its even his own blood.
The patient has epilepsy and is a frequent patient, according to his girlfriend.
His girlfriend did not want to reveal her last name but said his seizures are not controlled.
"After a seizure, it's called a postical state, and you don't know what's going on and your dizzy," Stacy said.
That is why Stacy says her boyfriend does not remember how it ended up in his pocket. However, she calls it horrifying that a blood vial was left out for him to take.
"It's just the negligence of it," she said.
Stacy said she is worried about what would have happened if it was a child in that hospital room, instead of her boyfriend.
"A child doesn't know better and will play with something and pick that vial of blood up and think it's Kool-Aid or something they can play with," Stacy said. "You can't keep your eyes on your children 24/7."
Another issue for Stacy is that there was a label on the blood sample but no name so she and her boyfriend are not even sure if it is his blood.
"We don't know if there is anything wrong with the blood or if it is contagious," she said. "They need to make sure it's not somebody else's that may have been waiting for results."
When Stacy's boyfriend noticed he had taken the blood vial accidentally, she notified the hospital. On Wednesday, ABC6 News was there when a messenger showed up from the hospital to bring it back.
However, Stacy says that isn't enough.
"You need more staffing, more help, and need to pay attention to detail," Stacy said.
A spokesperson from Care New England said due to privacy laws they will not be making a comment at this time.
©WLNE-TV/ABC6 2020