BEAR TRACKER: Where's the bear?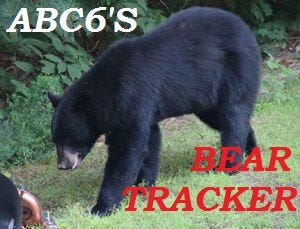 Olivia Cianci and Dee Dequattro
News@ABC6.com
The bears are back in town.
In June 2012 a Black Bear was sighted roaming Cape Cod, MA. In June 2013, another bear is seen wandering around northern Rhode Island…this time for mating season.
The months of June and July are ones in which male bears become restless and go far distances for a mate. The increase in bear sightings is due to the increase in male bears in our area looking for their special someone.
ABC6 has come up with a list of bear sightings that may be in your area. We'll keep you posted with the latest in bear sightings.
Thursday
Burrillville 7:42 am
Arcadia Management Area, Exeter 8:49 am
Danielson Pike, Scituate 10:45 am
Friday
Glocester 7:46 am
Rocky Hill Road, Scituate, RI 8:10 am
Hartford Pike, Scituate 10:00 am
Saturday
Wilbur Road, Lincoln
At a bird feeder on Water View Drive, Smithfield
Sunday
Pond Hill Road, North Smithfield 5:00 am
Keach Dam Road, Chepachet 7:40 am
Monday
Crossing Rt 102, West Greenwich 8:51 am
Austin Farm Road, Exeter 6:50 pm
95 exit 3b, Richmond 7:29 pm
Tuesday
Reynolds Road, Hopkinton 5:37 am
North Road, Hopkinton 7:23 am
At a bird feeder on Victory High Way, West Greenwich 7:02 pm
At a bird feeder on Frye Pond Road, West Greenwich 7:39 pm
Wednesday
In a backyard on Weaver Hil Road, West Greenwich 7:22 am
Swimming across Johnson Pond, Coventry prior to 8:53 am
Lake Hurst Drive, Coventry 8:53 am
At a bird feeder on Hill Farm Road, Coventry 9:05 am
Wednesday – July 3rd
Matt Gurjian a resident from Scituate came face to face with a bear.
Fourth of July
A bear crashed a Fourth of July Party following the Ancients and Horribles parade in Glocester.
The bear moseyed his way through Pat Whitford's backyard on Huntington Road around 7 p.m.
July 5
The bear was sighted in the area of Hill and Emerson Drive.
A bear was also seen on Crystal Lake Golf Course.. (No, he wasn't playing golf)
Visit http://www.dem.ri.gov/programs/bnatres/fishwild/pdf/bears.pdf for more information about bears and bear safety.
Have you seen the bear? Did you get a picture?
Let us know. Email your sightings or pictures to news@abc6.com. You can also call 401-453-8044.
(C) WLNE-TV 2013