About 250 Protest Release of RI Child Killer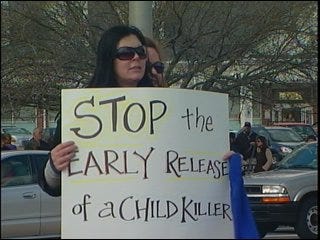 SOUTH KINGSTOWN, R.I. (AP) – About 250 people demonstrated in Wakefield to support the victims of a child killer who's expected to be released from prison later this year.
Michael Woodmansee was sentenced to 40 years in prison in 1983 after pleading guilty to killing 5-year-old Jason Foreman of South Kingstown in 1975. But Woodmansee has earned "good time" and will be released early.
Organizer Sharon Lillibridge Raymond said the demonstration was about supporting Foreman's family and the family of a paperboy Woodmansee attacked in 1982, and was not a call for vigilante
justice.
But many in the crowd said Woodmansee, now 52, should remain in prison. Some waved placards with sayings including, "Keep the animal in his cage."
Foreman's father, John Foreman, attended the rally and thanked the crowd for protesting Woodmansee's release.