Accidents Down On Federal Hill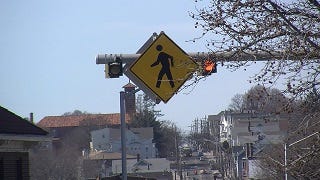 By: Liz Tufts
One man's painful experience is now helping save lives. Accidents along Atwells Ave have dropped dramatically over the past few years. It's thanks in large part to a Providence city councilorwho survived being hit by a car.
On any given time of day, Federal hill is packed with cars and pedestrians and over the years a lot has changed on Atwells Ave. Not only are there more signs alerting driversto a crosswalk, more lights have gone up and so has a speed bump. It's named after City Councilor Terry Hassett who was hitby a car three years ago. "I was looking across the street and looked one way andanother and the car was going about 38 miles I was thrown in the air and hitthe windshield, " says Hassett.
After his long recovery, he made it his mission to make the area more safe bycalling on the city to install thousands of dollars of traffic improvements. "They now have signs that have strobes so when you push thebutton to cross the cross walk the strobe light comes on, " says Hassett/
The safety measures seem to be working. Car crashes and pedestrian accidents are down 64 percent, and many are taking notice. "There's more signs so people are being more careful anddrivers are being more careful, " says Mario Paris of Providence.
Hassett's mission doesn't stop here. He hopes other cities will see the need to install moresafety measures. Including Newport, where back in January two people were hit and killed bycars while walking in a crosswalk.