ACLU sues over NECAP high school graduation requirement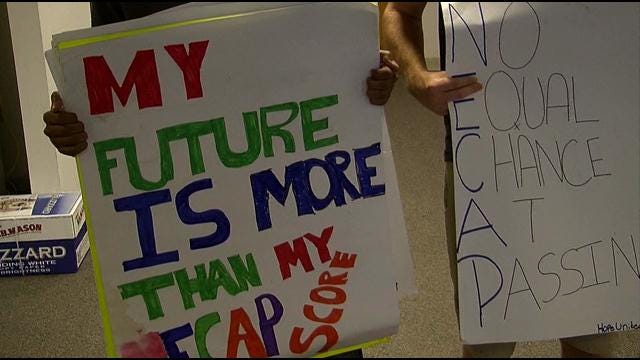 by ABC6 Chief Political Reporter Mark Curtis
"So when I found out I didn't score high enough to graduate, it haunted me," said Hope High School Senior Priscilla Rivera.
And, because of stories like that the Rhode Island chapter of the American Civil Liberties Union filed a lawsuit over the controversial NECAP test for high school students.
The ACLU predicts four thousand Rhode Island high school seniors won't do well enough on the test, to graduate next year.
"The lives of all these students are in limbo. Every month delay in grappling with this problem means increased anxiety and uncertainty for those students," said Steven Brown of the Rhode Island ACLU.
And some entering their senior year are worried.
"I'm afraid that I don't pass this, and I won't be able to go to college and do what I love doing, and I'll probably have to get a minimum wage job or something that I won't like," said student Rivera.
The ACLU and other advocates at its news conference feel there are better ways to assess student performance.
ABC6 News Reporter Mark Curtis said, "At the very least, the ACLU would like to see the Board of Education hold a public hearing on the NECAP test, so that people could debate the pros and cons."
Education Commissioner Deborah Gist – who is a big supporter of the NECAP test – declined to comment on the ACLU lawsuit.
But her supporters say the state must set high education standards for students.
"I support standards and I support the leadership of Commissioner Gist. I think it's important that we set expectations and produce America's best citizen-workers out of our schools," said State Sen. Dawson Hodgson, (R) North Kingstown.
The state Board of Education does not meet again, until late August.