Advocates rally to reform solitary confinement after reported ACI suicides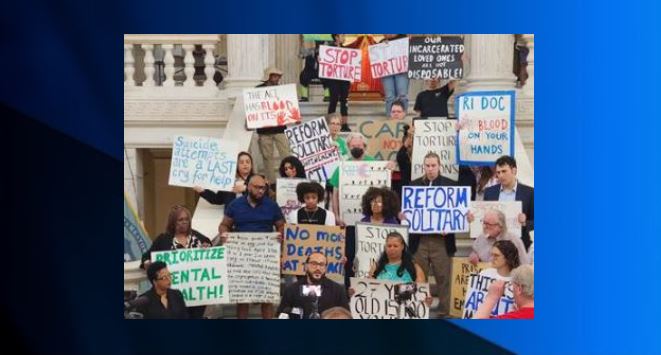 PROVIDENCE, R.I. (WLNE) — After three deaths at the Adult Correctional Institutions in Cranston, advocates and survivors from around the state rallied to raise awareness.
On Tuesday afternoon, Representative Felix, Senator Jonathan Acosta and Rep. Leonela took to the statehouse steps to draw attention to the need for reform in the use of solitary confinement.
"Brian Rodenas should be alive today," said Representative Felix.
"He had been placed in solitary confinement not because he was violent, but he was suspected of hoarding medications. This is a clear abuse of the solitary confinement system. Individuals sentenced to serve time should not be subjected to such harsh conditions that it leads them to take their own lives. This system is in desperate need of reform," he concluded.
Rodenas' family said he was held in solitary confinement for much longer than originally thought.
His family received a letter from Rodenas, 27, from March 15, saying he was in solitary confinement and would only be able to call for ten minutes every 30 days.
He was in solitary confinement when he was found dead on May 2., authorities said.
According to officials, correctional officers are not required to report when, and for how long, individuals are held in solitary confinement.
A bill by Sen. Acosta and Rep. Felix would lay out clear guidelines for when solitary confinement could be used and when it can not.
The bill would restrict the practice to punishment for violent offences and prohibited, except in emergencies, for inmates with developmental or psychiatric disabilities. They added that nobody could be held in solitary confinement for more than 22 hours a day.
"This bill is not about banning solitary confinement," said Senator Acosta.
"It's about reforming the system to ensure accountability and ensure the practice is used as a last resort. The General Assembly funds the ACI. It is incumbent on us to exercise oversight and ensure taxpayer dollars aren't funding the arbitrary torture of our neighbors. These are human beings, and their lives have value." the senator concluded.