Advocates want focus of Kraft scandal shifted to sex trafficking victims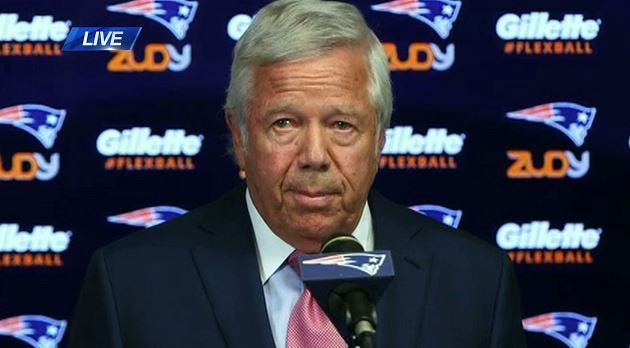 PROVIDENCE, RI (WLNE) — Patriots owner Robert Kraft is being charged with soliciting prostitution in connection to a wide-ranging human trafficking investigation in Florida. Kraft is denying the charges against him but police in Jupiter, Florida say they have video evidence of the Patriots owner receiving sex acts inside a massage parlor.
All of the attention is centered on the Patriot's owner, but for many people the real story is the women being forced to serve as sex slaves for these prostitution operations.
According to the 16 page affidavit, these girls appeared to be living at the massage parlor and the place was under surveillance between January 15th and 22nd, right before and right after the Pats AFC Championship Game.
But there's a bigger issue here–and one local group does not want Bob Kraft's name to be the biggest part of the story.
"These women are overworked…they're hardly paid anything…it's forced slavery," said Peg Langhammer, the Executive Director of Day One, a victim advocacy group in Providence.
"I like the focus to be on the industry. We're talking about such a major business here. And that to me is where we need to put our attention… our energy….our resources," said Langhammer.
Langhammer says busts like the one in Jupiter is a dime a dozen.
She says it's an issue that often gets overlooked.
"2018 there were over 9-thousand illicit brothels…. Massage parlors so called… in the United States. It generated a revenue of 2.5 billion dollars," according to Langhammer.
There could be some good that comes out of this situation.
Langhammer said the attention given to Bob Kraft could be the spark this country needs to bring down this horrific industry.
"We see it again and again…with a Bill Cosby…with a Harvey Weinstein…if it's a well known person the issue often gets more attention. Any time a spotlight can really shine on this issue it's a good thing," she said.
At the media briefing Friday one police official said that based on evidence it seemed that the Patriot's owner was a regular at the spa.
©WLNE-TV / ABC6 2019