AG announces indictment of former Mattiello aide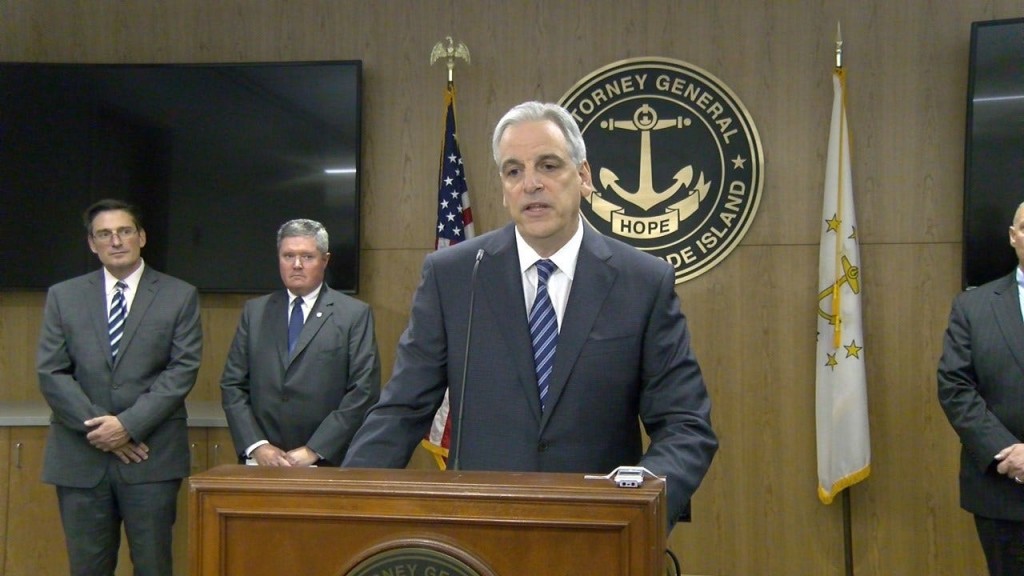 Twitter: @BComakABC6
PROVIDENCE, R.I. (WLNE) – A former campaign aide to House Speaker Nicholas Mattiello is facing charges of money laundering and violating campaign finance laws.
Rhode Island Attorney General Peter Neronha announced the charges Friday in connection with a controversial mailer that went out during the 2016 race in which Mattiello just barely won against Republican Steven Frias.
Neronha says Jeffrey Britt paid for the mailer with his own money and intentionally disguised the money as being from donors.
The mailer included an endorsement of Mattiello by Republican Shawna Lawton, who had originally lost the Republican primary that year.
"At no time was it disclosed to the board of elections or in any public filing that Mr. Britt had funneled the $1,000 in cash to Ms. Lawton's campaign through donor one," said Neronha at a press conference.
Leaked messages had shown Lawton would participate in the mailer endorsing Mattiello in exchange for anti – HPV vaccination legislation. Both have denied these allegations.
"I had no knowledge," said Mattiello when asked about it back in 2018. "If I had any knowledge about that mailer it wouldn't have gone out."
When asked if Speaker Mattiello was aware that Britt allegedly made these payments, Nerhona put the onus on Britt.
"The person who knew of the misconduct, based on the evidence we have, was Mr. Britt as alleged in the indictment," said Neronha.
But in a statement, Britt's attorney called the charges a "set–up," saying he was used by the Mattiello campaign as a "fall guy," and that he shouldn't be criminally charged.
The attorney general says the issue was referred to his office by the board of elections last year after people involved in the investigation did not respond to subpoenas from the board.
"To duck service of a subpoena before the board of elections, to avoid service, to simply not return phone calls, to not respond. I think that's a real problem," said Neronha.
A spokesperson for Mattiello says the case doesn't involve him.
His former opponent Steven Frias released a statement saying the speaker "ran a campaign which engaged in criminal activity and this criminal activity played a role in his win."
Britt is set to appear in court on these charges November 1.