Agency investigating Miami collapse also investigated 2003 Station Nightclub fire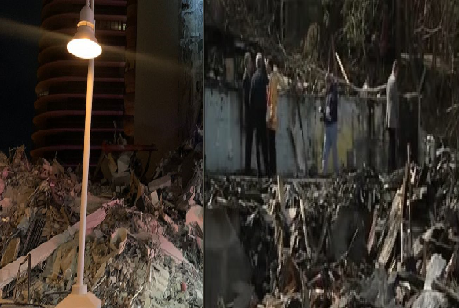 MIAMI, FL (WLNE) – The National Institute of Standards and Technology, which is tasked with investigating the Miami collapse, is the same organization that investigated the West Warwick Station Nightclub fire in 2003, a tragedy that claimed 100 lives.
A half-dozen scientists and engineers who specialize in disastrous building failures are en route to Florida to collect first-hand information as to what lead to the collapse of Champlain Towers South.
The initial work from the team will determine whether to pursue a more thorough study.
The "experts will work with federal, state and local authorities to identify and preserve materials that might be helpful in understanding why the collapse occurred," said Jennifer Huergo, an agency spokeswoman.
This agency also investigated disasters such as the collapse of the Twin Towers on 9/11, the 2011 Joplin, Missouri tornadoes, Hurricane Maria in Puerto Rico, and the 2003 Station Nightclub fire.
A final report published by the agency in 2005 determined the cause of the Station's destruction in 2003 came from the ignition of polyurethane foam insulation lining that was in the walls and the ceiling.
Flames spread through the walls and dance floor and quickly broke through the roof in less than five minutes according to the NIST.
The investigation concluded that "strict adherence to 2003 model codes available at the time of the fire would go a long way to preventing similar tragedies in the future."
100 lives were lost in that fire, and 230 more were injured.