Prayer Banner Teen Responds To Threatening Letter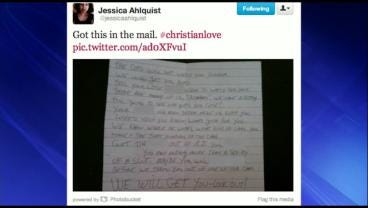 Police are investigating a threatening letter sent to the student at the center of the Cranston Prayer Banner controversy. Jessica Ahlquist posted the letter on her public Twitter account.
Ahlquist says she decided to post the letter months after receiving it because she thought enough time had passed since the prayer banner debate, but the threats are so graphic that the letter went viral.
One day after the Cranston School Board decided not to appeal the court's decision to have the prayer banner removed at Cranston West, a handwritten letter showed up in Jessica Ahlquist's mailbox.
It starts by saying, "the cops will not watch you forever. We will get you good." It goes on to say, "we know where your father works, what kind of cars you drive and the plate numbers…get the <expletive> out of Rhode Island."
Ahlquist tells ABC6 News she only posted it to Twitter now because she thought enough time had passed since the prayer banner debate.
"I posted it to my Twitter account to my followers. It's not for the media to go crazy over," Ahlquist said.
Police say it is something to take seriously because out of all the hate mail Ahlquist has received, the letter is by far the most graphic and threatening.
The ACLU was quick to comment on camera while the prayer banner lawsuit continued, but now that Ahlquist is receiving death threats because of it, they would only release a statement.
It states, "It is unfortunate that the vitriol aimed at her has not completely stopped, but we are confident that the police are taking this latest threat seriously."
Ahlquist has since removed the post from her Twitter, and she tells her followers that she did it because police said it would only instigate more.
Cranston police say they are currently testing the envelope for any evidence.