Ainge Says Stevens was His 1st Choice to Follow Doc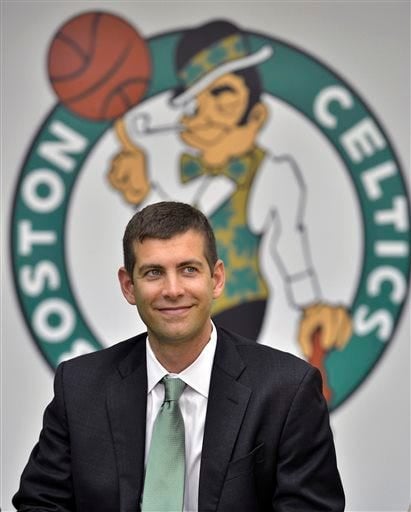 Ken Bell
Ainge calls 36-year-old Stevens his 1st choice
WALTHAM, Mass. (AP) _ Brad Stevens says he had no desire to leave Butler _ until the Celtics called.
Boston introduced its new 36-year-old coach, and general manager Danny Ainge says Stevens was his first choice to replace Doc Rivers.
Stevens says coaching the Celtics is "an incredible honor and it's certainly flattering.''
Boston received a first-round draft pick from the Los Angeles Clippers for the rights to Rivers.
Stevens says he has already reached out to Celtics star point guard Rajon Rondo. Boston is in rebuilding-mode and Rondo is coming off a major knee injury.

Seventeen championships. Bill Russell. Red Auerbach. It was all too much for the 36-year-old Stevens to resist.
Boston introduced its 17th coach at a news conference on Friday at the team's practice facility, and president of basketball operations Danny Ainge said Stevens was his first choice to replace Doc Rivers. Boston received a first-round draft pick from the Los Angeles Clippers for the rights to Rivers last week, and then Ainge called Stevens.
"First of all, the Boston Celtics, like, wow – that is an incredible feeling," Stevens said about last week's phone call from Ainge. "It's an incredible honor and it's certainly flattering."
Stevens received a six-year deal worth a reported $22 million and became the youngest head coach in the NBA.
"My first phone call was to Brad Stevens. Brad was my first choice," Ainge said. "I have watched and admired his poise, his intelligence, his teams – their effort, their execution under pressure and I've always looked at him the last few years as a guy who was a great candidate to be a head coach – never really thinking that it was going to be this soon in Celtic history but he's a guy that I have targeted for a long time as a potential great coach."
Under a veil of secrecy, and a Celtics' contingent visited Stevens' home Wednesday and finalized the contract, with the coach's wife/agent, Tracy.
"I'm the only coach in the country that pays 100 percent of his salary to his agent," said Stevens, who left a deal with Butler set to run through 2022 for this "awesome opportunity."
"I am absolutely humbled to be sitting in this room and looking around at the (17 championship) banners that hang," he said. "I'm in awe of the Boston Celtics and the Boston Celtics organization and what has been accomplished by the players."
Butler made it to the NCAA championship game twice with Stevens leading the way. Becoming a mid-major powerhouse helped Butler land a lucrative spot in the new Big East basketball conference.
Stevens said it was hard to leave that behind, but he now looks toward helping the Celtics start a rebuilding process which officially started with Rivers going to the Clippers. The next step comes new week when Paul Pierce and Kevin Garnett are traded to the Brooklyn Nets.
What's left isn't really known, and the natural questions are about Rajon Rondo, hardly considered the easiest guy to get along with – and that was with Rivers, a coach with an NBA resume.
Stevens said he had already reached out to Rondo by phone and will spend time with him soon.
"There's no bigger fan of Rajon Rondo than me," Stevens said. "I think the way he plays, his instinct, his ability to make other people better, he sees plays ahead of the play, he is an incredibly, incredibly talented person and everyone I've talked to has just raved about how intellectual he is, about how great he is. I'm looking forward to it."
"I think Brad and Rajon will get along great," said Ainge.
Rondo is coming off a major knee injury.
Ainge said the length of the contract shows the team's commitment to Stevens, who will now try to break the trend of college coaches moving into the NBA and failing (John Calipari and Rick Pitino are two of the most notable).
"I think a difference is his humility," Ainge said. "I think as an organization, a six-year contract speaks loud. I don't think there's any other coach in the NBA with a six-year commitment from their team.
"We understand – we're investing in him as a person. I think a lot of times with the college coaches, I think with those people that you mentioned, Rick Pitino, John Calipari, are fantastic basketball coaches. They didn't fail because they can't coach. Failure was from an organizational standpoint, giving them the support . there were a lot of factors and I think those guys could easily succeed in the NBA."
Stevens said: "Certainly I'm aware of those names and I'm aware of everybody that's made the transition. Each situation is different, too. What I would look for in any work environment are people that are all on the same page, that all believe in getting the right people on the bus and believe in supporting each other.
"I think we really feel strongly about how we've been treated right from the get-go . it was the kind of working environment that I was used to. We felt at home. It was the right decision. It was obviously the right decision."
Ainge, who reportedly first interviewed assistant Jay Larranaga (one of two assistants staying on Stevens' staff) noted it was "a leap of faith" for Stevens to leave Butler, where he was 116-49 in six years and led team to the 2010 and '11 national title games.
"As much as I took a leap of faith, so did they," Stevens said.