All USA Final in the America's Cup Regatta as Both Oracle Boats Advance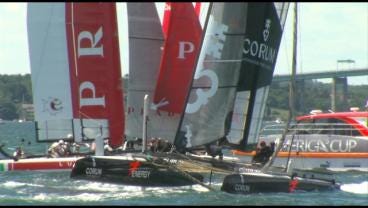 Ken Bell
America's Cup release:
Jimmy Spithill's ORACLE TEAM USA crew couldn't have had a better afternoon of racing at the AC World Series in Newport on Friday. First, they won their match race to advance to the Final on Sunday. Then, Spithill's team stole a win in the fleet race with an impressive, last minute passing move, to deny the Kiwi team a storybook victory.

"We got off the starting line well and the boys just dug in the whole way around and never gave up," Spithill said. "We thought we had a shot at it (making the late pass), it was just a fantastic race track. There were a lot of passing opportunities out there; it was never over. But full credit to Team New Zealand, they did a lot of work last night and they got out there and were straight up to pace."

Emirates Team New Zealand made an impressive recovery from Thursday's capsize and wing damage, bursting out of the starting gate to lead the fleet race from the first mark until the very final moments, when Spithill pounced, to grab a seven second victory.
But the second place finish will be a measure of consolation for Dean Barker's team which had spent much of Thursday night in the boat shed, repairing damage to the wing that was incurred after it filled with water following the capsize. The team launched before noon on Friday with a fully repaired wing, ready to race, and eager to prove they could challenge for the top of the table.

"For us it was important to put it all back together on the water today," Barker said. "The guys really battled hard all through the night last night. There was a lot of damage and it was a massive effort just to make the start today. It would have been nice to give them a win, but second is okay."

Racing took place in front of big crowds along the north shore of Fort Adams, as well as on the water. Organizers counted nearly 9,000 people through the gates on Friday.
Sea breeze conditions ensured good competition, with winds in the 10 to 14 knot range.

At the beginning of the afternoon, ORACLE TEAM USA set up an all-American match race showdown on Sunday when both crews won their semi final races on Friday afternoon.

Terry Hutchinson's Artemis Racing hadn't lost a match race yet this year, but made an error by breaking the starting line early and picking up a penalty which allowed ORACLE TEAM USA SPITHILL to take an early lead that they would never relinquish.

Then, Russell Coutts proved the value of experience in the pre-start as the Cup veteran made an aggressive move moments before the starting gun fired to take a narrow advantage off the line in his match against Luna Rossa Piranha. Chris Draper's Italian team kept it close for much of the race, but was never able to cross ahead of Coutts' ORACLE TEAM USA.
Quotes:
Governor Lincon D. Chafee, after racing with Luna Rossa Piranha: "It was a thrill to see first hand the best sailors and fastest boats. This is the next generation of innovative, competitive sailing. I'm looking forward to showcasing Rhode Island as the host city for the Americas's Cup World Series on national television during the finals on Sunday."

Terry Hutchinson, skipper, Artemis Racing: "Making it into the Semi Finals secured us the overall Championship for the year in the match racing… (But) we still feel we have a long way to go to match ORACLE TEAM USA and Emirates Team New Zealand. We're a fairly young team and we have to get better, plain and simple."

Russell Coutts, skipper, ORACLE TEAM USA COUTTS: "It's always been a challenge to engage the US audience in sailing. But I think we've got a racing format that people are interested in. The crowds are clearly enjoying it and I think it's a great opportunity to grow the sport."

Chris Draper, helmsman, Luna Rossa Piranha: "We were pretty much in control in the pre-start until the last 30 seconds but couldn't fool Russell… It's a bit of a shame (the match racing format) is a best of one."

Nathan Outteridge, skipper, Team Korea: "In the practice racing we were getting a lot of firsts and seconds, and it was just about getting around that first mark and getting yourself down to the bottom mark in good shape… But I think the fleet is getting better with every regatta."

Loick Peyron, skipper, Energy Team: "Our start was not good, but the way we came back was interesting… Our crew did a tremendous job today."

Saturday's program begins with the AC500 Speed Trial, followed by fleet races three and four. Racing starts at 14:36 EDT and is live on youtube.com/americascup.

AC World Series Newport – Fleet Racing Championship Results
| | | | | | | |
| --- | --- | --- | --- | --- | --- | --- |
| | Race 1 | Race 2 | Race 3 | Race 4 | Race 5 | Total Points |
| ORACLE TEAM USA SPITHILL | 1 | 1 | | | | 20 |
| Artemis Racing | 4 | 3 | | | | 15 |
| Emirates Team New Zealand | 6 | 2 | | | | 14 |
| Energy Team | 5 | 4 | | | | 13 |
| ORACLE TEAM USA COUTTS | 2 | 7 | | | | 13 |
| Luna Rossa Piranha | 3 | 8 | | | | 11 |
| Luna Rossa Swordfish | 7 | 5 | | | | 10 |
| Team Korea | 8 | 6 | | | | 8 |

Match Racing Championships, Semi Final results (winners advance to Final)
ORACLE TEAM USA Coutts beat Luna Rossa Piranha, 1-0
ORACLE TEAM USA Spithill beat Artemis Racing, 1-0
AC WORLD Series Newport Match Racing Championships – Standings
The top two teams will race in the Final on Sunday
3. Luna Rossa Piranha
4. Artemis Racing
5. Energy Team
6. Emirates Team New Zealand
7. Luna Rossa Swordfish
8. Team Korea
2011-12 AC World Series Overall Championship Leaderboard (after five of six events)
1. ORACLE TEAM USA Spithill…84 points
2. Emirates Team New Zealand…80 points
3. Artemis Racing…71 points
4. Energy Team…65 points
5. Team Korea…56 points
6. ORACLE TEAM USA Coutts…53 points
7. Luna Rossa Piranha…34 points
8. China Team…31 points
9. Luna Rossa Swordfish…21 points