Allen Betrand Officially Signs with URI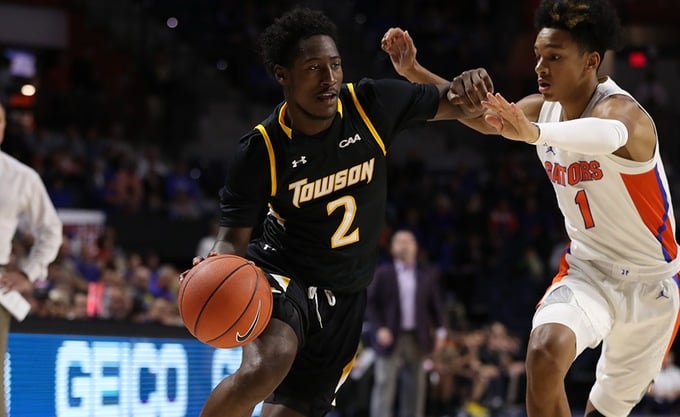 (Photo Courtesy: Towson Athletics)
University of Rhode Island Press Release
KINGSTON, R.I. – Rhode Island head coach David Cox announced the addition of transfer guard Allen Betrand to the 2020-21 men's basketball roster Thursday.
Betrand – a 6-5, 200-pound sharpshooter – earned All-CAA Third-Team recognition after averaging 13.6 points per game for Towson last season. The Tigers' second-leading scorer, he shot 38.7 percent (46-for-119) from 3-point range and led the conference in free throw shooting at 88.6 percent (78-for-88). Betrand started all 32 games, scoring in double figures 23 times while averaging 28.9 minutes per game.
Since entering the transfer portal, Betrand was being heavily recruited by Rhode Island, Butler, Dayton, DePaul, Richmond and Minnesota. Betrand will have two seasons of eligibility for the Rams.
"Allen is a strong, mature guard with a powerful offensive game," Cox said. "He is a potent shooter from the perimeter who also knows how to get to the free throw line. He understands what it takes to lead a successful program, as he proved with Towson. To be able to add a young man the caliber of Allen is very exciting."
During his sophomore season, Betrand helped Towson go 19-13 overall and 12-6 in CAA play. This was a major jump from the previous season, when the Tigers went 10-22 and 6-12.
Betrand and the Tigers finished third in the league with the 12-6 conference record. Towson won seven straight CAA games for the first time in program history, and the 7-1 mark in January was the second best month in school history.
Betrand is the fourth transfer to join Rhode Island this offseason, along with centers Makhi Mitchell and Makhel Mitchell from Maryland and Charlotte guard Malik Martin.