Allen Craig's Four RBI Help PawSox Win Fourth Straight Game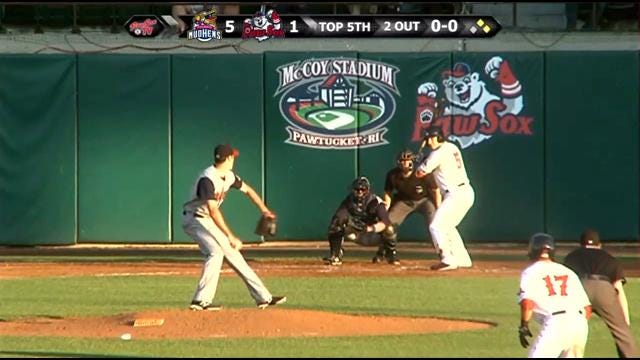 Pawtucket Red Sox Press Release
(Pawtucket, RI) – Pawtucket scored six unanswered runs after trailing 5-1 with Allen Craig driving home four runs, while starter Brian Johnson won his league-high-matching seventh game as the PawSox beat the Toledo Mud Hens, 7-5, on Saturday night for their fourth straight victory before a season-high 11,863 fans at McCoy Stadium.
Craig's three-run home run (2) in the bottom of the fifth started the comeback, then his RBI single capped a three-run seventh inning that put Pawtucket in front 7-5. Johnson (7-4) worked seven innings and allowed five runs (only one earned) and seven hits.
Pawtucket (32-31) has won four consecutive games for just the second time on the season and improved to 6-0 this season against Toledo. Bryce Brentz also drove home a pair of runs for the PawSox, who collected 11 hits on the night against four Mud Hens pitchers.
The three-run rally in the seventh came against reliever Angel Nesbitt (0-1), who had just been optioned from Detroit on Friday. After Quintin Berry walked to begin the inning, Travis Shaw singled to put runners on the corners.
Brentz followed with an RBI single to right, and on the play right-fielder Steven Moya allowed the ball to roll past him to the fence for a two-base error that allowed Shaw to score the go-ahead run.
Craig then singled to right to plate Brentz with the game's final run. Nesbitt worked only 0.1 innings and was charged with three runs on four hits.
Reliever Dayan Diaz worked around a pair of two-out singles in the eighth to earn a hold for Pawtucket, while newcomer Pat Light pitched a 1-2-3 ninth inning including a pair of strikeouts to earn his second save in as many appearances.
Craig's three-run home run in the fifth against starter Derek Hankins came with two outs and Berry and Shaw on base to cut the Toledo lead to 5-4. The Mud Hens scored four times against Johnson in the top of the fifth, all unearned, to snap a 1-1 tie and build a four-run lead.
Dixon Machado's two-out RBI single plated Jeff McVaney, who had reached on a Deven Marrero throwing error to put Toledo in front 2-1. Then after Johnson hit consecutive batters with a pitch, Jefry Marte drilled a bases-clearing double that made the score 5-1.
Marte's RBI single in the first opened the scoring, but Brentz responded with a two-out RBI single in the bottom of the frame against Hankins that tied the game at 1. Hankins allowed four runs on six hits in five innings of work.
Jackie Bradley, Jr. (2-for-5), Shaw (2-for-4, walk, 3 runs), Brentz (2-for-5, two RBIs), Craig (2-for-3, walk, 4 RBIs) and Deven Marrero (2-for-3, sacrifice bunt) each had a pair of Pawtucket's 11 hits. Marte went 3-for-4 with four RBIs to pace the Mud Hens' nine-hit attack.
The PawSox will try for a four-game sweep as they play the finale of the four-game series on Sunday afternoon at 1:05pm. Left-hander Henry Owens (2-5, 3.64) is expected to start for Pawtucket against Toledo southpaw Mike Belfiore (2-7, 6.75).
Good seats are still available at the McCoy Stadium box office, by calling (401) 724-7300 or by visiting pawsox.com. Radio coverage on 920 AM (WHJJ) and also streaming online begins at 12:50 pm.