Almost 100 displaced after Warwick condo fire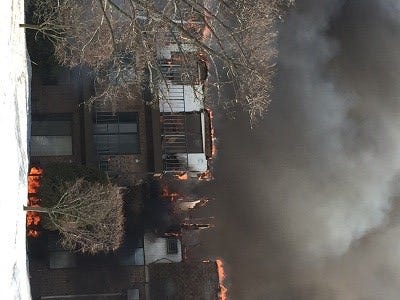 By Matt Blanchette
@MattBlanchette
Nearly 100 people are without a home Wednesday night after a 3-story condo complex in Warwick burned to the ground.
Luckily, everyone inside the West Gate condo building made it out safely, but just in time to see everything they owned go up in flames.
The top floor of the 38-unit condo complex off Quaker Lane no longer exists as crews from several communities battled throughout the day to get the fire under control.
Courtney Lemay, who is pregnant, was in the shower when she heard the alarm go off.
"I went to the window and saw black smoke coming out. And a lady who lives on my floor saying there is a fire there is a fire and we got out."
She was able to grab her chihuahua and run, as her boyfriend raced home.
"I got here and ran to her to make sure she was ok. Then I was able to walk around the building and at that point I had a front row seat to see flames billowing out of my unit," David Genest said.
The flames poured out of the building for hours, as the top floor was trimmed.
David Santurri lost his collection of DVD's but managed to grab his most-prized possession
"I did my best to grab my cat she ran under the bed, and I got out."
Susan Gaipo was not as lucky. Her cats Freddy and Lucy did not make it out.
"Two baby cats yes. They were only 4. I didn't even ask to go back in. I could see that the fire was coming this way and I couldn't go in.
Firefighters had trouble taming the fire because of a broken hydrant, and several others had low pressure. Warwick Fire Chief Edmund Armstrong says, "At one point we did go to the next neighborhood over to bring water in. We also used Quaker Lane and we used tankers from other cities and towns to help us out."
Crews will continue to monitor hot spots before they go in to search for a cause.
"Too early to tell. We are not sure about that. We will have the state fire marshal investigate it."
Most residents told ABC6 they had family to stay with tonight, and for the foreseeable future. They said it was the pictures and the memories, things that cannot be replaced, that hurts the most to lose.
The American Red Cross is currently assisting the residents of the Westgate condominiums. Team members have been on scene since the late morning meeting with families to assess their needs, according to spokesperson, Paul Shipman. He says that residents were also provided meals donated by Texas Roadhouse Restaurant.
The Christian Hill Community Church in West Warwick has opened its door to residents in need and Red Cross will operate at the shelter throughout the night. Red Cross members are unable to provide an estimated number of people that will be using the shelter since some will be making arrangements with family members.
(C) WLNE-TV 2015