An active week weather-wise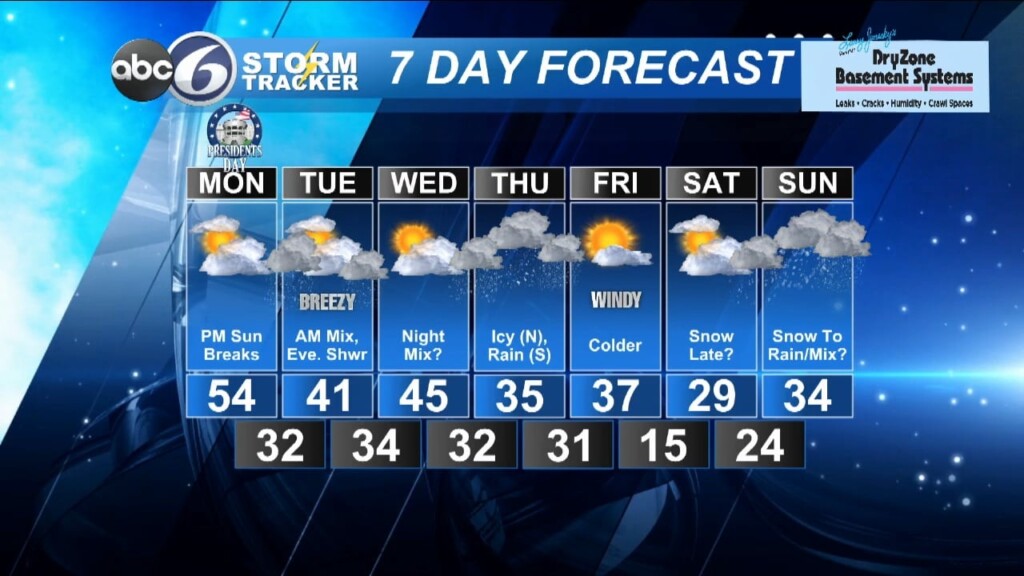 From ABC6 Meteorologist Bill Gile,
bgile@abc6.com
We'll see one more really mild day tomorrow, but as we move into the second half of the week it will begin turning colder and the weather pattern will become active this week with several small systems moving through. In fact, it looks like about every 12-24 hours will feature another weather system moving through the Northeast region, but nothing that will result in a washout and most of them will come through at night.
High pressure to the south of New England tonight will help to keep us on the mild side under a cloudy sky. There will be some patchy fog late and perhaps a light rain shower or sprinkle along the south coast and Cape Cod.
Most of President's day Monday will be dry until the evening hours when a brief rain shower moves through.
Tuesday morning could start off with a wintry mix of rain and wet snow, but temperatures will be above freezing. Then its dry most of the day until the evening when another weak disturbance crosses the region with more rain showers.
Colder air will begin working toward the region late Wednesday and that means rain showers may be mixing with some wet snow that lingers into Thursday as an icy mix of sleet and freezing rain to the north and rain to the south. We'll be able to pin this down better over the next day or two.
a
As next weekend approaches a more organized storm system may be developing that could bring some snow. However, the latest long range model guidance has been very inconsistent as to how this will evolve. Nonetheless, there is still a lot that can change between now and then.
TONIGHT: cloudy with a couple of light showers around and some patchy fog late. Lows 41-44.
MONDAY: cloudy with some breaks of sun late in the day. Staying mild with Highs low 50s.
MONDAY NIGHT: mainly cloudy, a brief evening shower around. Lows 32-36.
TUESDAY: an early rain shower or rain/snow mix for the morning commute, drier by midday and another threat of rain showers developing overnight. Highs in the low 40s.
WEDNESDAY: partial sunshine and another threat of showers overnight that may be mixing with wet snow. Highs in the mid 40s.
THURSDAY: rain for southern RI and perhaps an icy mix of sleet and freezing rain in northern RI and up into Worcester county. Highs in the mid 30s.
Tune into ABC6 News for your updated on-air forecast.