And 1 Hoop Stars Stop in RI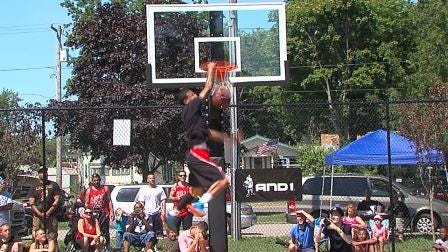 By Matt Blanchette
mblanchette@abc6.com
If you follow basketball you are probably aware of the And 1 Mixtour whose basketball and streetball videos went viral during the mid 90's.
The boys are still touring the nation and stopped in Rhode Island on Sunday.
They played at the brand spaking new courts in Oakland Beach Warwick.
The team serves as ambassadors for clean, healthy living now and took time to speak with kids and sign autographs.
They also thrilled the crowd with a slam dunk competition.
"Back in the day it was about the moves, the crossovers," Hot Sauce, a legendary And 1 player, said.
"Nnow
it is about us going back out to the communities. Giving back. Reaching out to
the kids that are not able to be a part of this, so that is what we are here
for."
Mark Eaton works with the Elks and helped with the event, and teaches kids to stay positive and away from drugs.
Said Eaton: "They did drills with the kids this morning. They spoke to
them about school that like all these players when they are done with playing,
they have an education."
"You know stay off the streets. Stay doing something
positive. Stay on the right path and your success will be waiting," Hot Sauce said.
the and one team is playing a team of rhode island all stars in a game at pilgrim
high school right now