Andrew McCarthy Sets Brown Record with 7 Blocks in Win over Dartmouth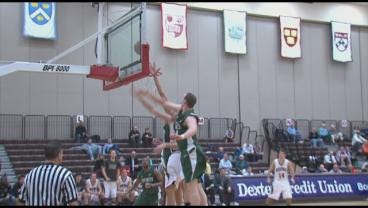 McCarthy's 19 Points and School Record 7 Blocks Leads Brown Over Dartmouth, 66-59
Providence, RI – Junior forward Andrew McCarthy scored a game high 19 points, pulled down 11 rebounds, and set a new school record with seven blocked shots, to rally Brown to a 66-59 Ivy league win over Dartmouth at the Pizzitola Sports Center.
The win lifts the Bears to their first Ivy win of the season (1-2 Ivy) and a 7-13 overall mark, while Dartmouth falls to 4-15 overall, 0-3 in the Ivy League.
Brown trailed by as many as eight points in the second half, 48-40, with 12:40 remaining and trailed by six points, 51-45, with just 7:33 left in the game.
McCarthy took over the game with six straight points to lead the Bears to a 16-3 explosion over the next 6:33 to grab a 61-54 advantage with just 1:00 left in the game following two free throws by sophomore Sean McGonalill, who had seven points in the spurt.
McCarthy's double-double was his fifth of the season. He connected on 6 of 10 field goals and 7 of 10 free throws. He also set a single game Brown record with seven blocked shots, breaking the previous mark of six blocks by Matt Mullery against Yale and St. Francis in 2009, and Chris White against Holy Cross in 1996.
McGonagill also posted a double-double for the Bears with 11 points, all in the second half, and 10 assists. Bears' senior Jean Harris kept the Bears in the game with 15 points, all in the first half, while sophomore Dockery Walker chipped in with 10 points and five rebounds.
Dartmouth led by as many as six points in the first half, 30-24, with 2:48 remaining following two free throws by Jaberi Trotter, before settling on a 33-28 lead at the half. The Bears stayed in the game behind the hot shooting of Harris, who scored 15 first half points while connecting on 6 of 7 field goals.
Brown came out of the intermission break firing on all cylinders and quickly out-scored the Big Green 7-0, to grab a 35-33 lead with 16:59 remaining on a three-point play by junior forward Andrew McCarthy.
The Big Green answered immediately with a 15-5 run to open up a 48-40 lead on two free throws by RJ Griffin with 12:34 left in the game.
The Bears will host 23rd ranked Harvard Saturday evening at the Pizzitola Sports Center. Brown expects a capacity crowd against the nationally ranked Crimson, and fans are encouraged to arrive early. Tip-off is 6:00 p.m.