Angel Taveras the Democratic Nominee for Mayor of Providence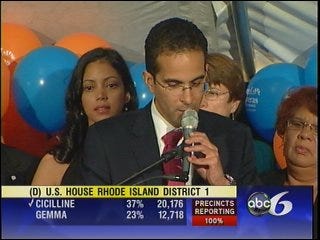 Political outsider Angel Taveras has beat out a field of veteran politicians to secure the Democratic nomination for Mayor of Providence.
Taveras won with 49% of the vote. City Councilman John Lombardi finished second with 29%, and State Rep Steven Costantino pulled in 20% of the vote. Perennial candidate Chris Young finished with 2%.
The atmosphere at the Taveras rally was electric as, beaming, he thanked his supporters in English and Spanish.
ABC6 Reporter Erica Ricci has more.