Animal advocates protest circus despite elephant retirement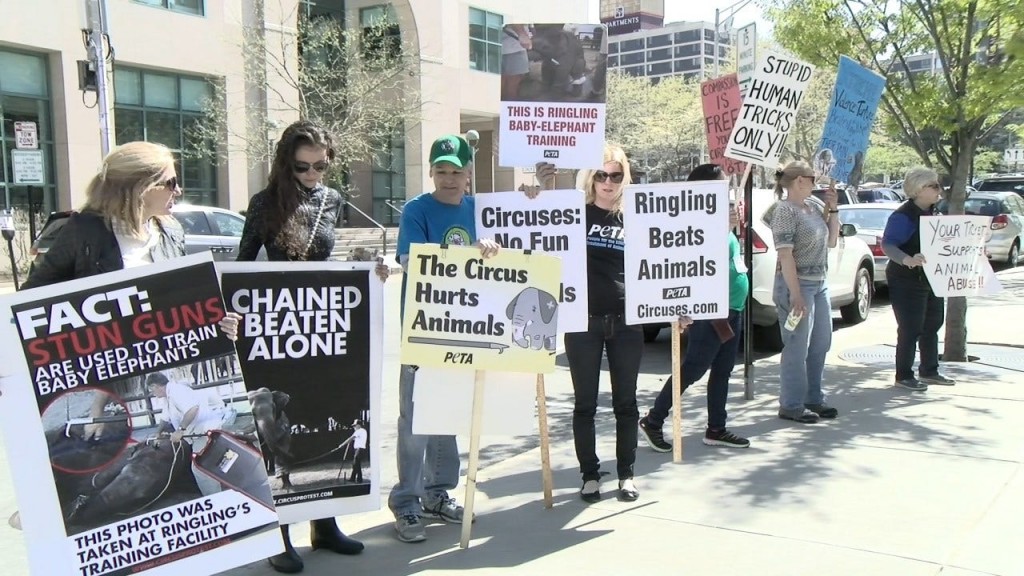 By Bianca Buono
@BBuonoABC6
Ringling Brothers' world famous elephants are performing for the last time this weekend in Providence; but the performances are not without controversy.
As dozens of families headed inside the Dunkin' Donuts Center to see the Greatest Show on Earth and to say goodbye to the elephants, they had to pass protesters, some with graphic signs.
"I can understand what they're protesting against. To be honest I might be a little naïve in what actually goes on," said Josh Medeiros of Westport.
"They're taken from their mothers' sides and they are trained like this with sharp bull hooks," said protester Amy Danielian.
The Ringling Brothers and Barnum and Bailey Circus have decided to retire their elephants after nearly 150 years of being a part of the show.
"We looked around and a lot of cities passed really unnecessary anti-circus legislation that made it hard for us to tour. We couldn't have different regulations in city A and city B. We're not going to leave the elephants at city limits," said Feld Entertainment's Vice President of Corporate Communications Stephen Payne.
Providence is the last stop for the elephants. After Sunday's shows, they're set to retire in Florida at the Ringling Brothers Center for Conservation. There, they'll become the focus of conservation and cancer research; but it's a move protesters are against.
"Well the elephants are going to be supposedly going to what they call a sanctuary. They're nothing more than a breeding ground," said protester Vic Moniz.
A spokesman for Feld Entertainment, the parent company of the circus, defended the 200-acre property, saying the animals are in good hands.
"These are animal rights groups that don't know what they have to do to care for a 9,000 pound Asian elephant, much less the largest herd in North America. We're committed to caring for these animals for their entire lives and to saving this endangered species," said Payne.
The activists say they will continue to protest shows until the circus gets rid of all of its animals.
© WLNE-TV 2016