Another Cool Night Ahead
Quiet Weather Through This Weekend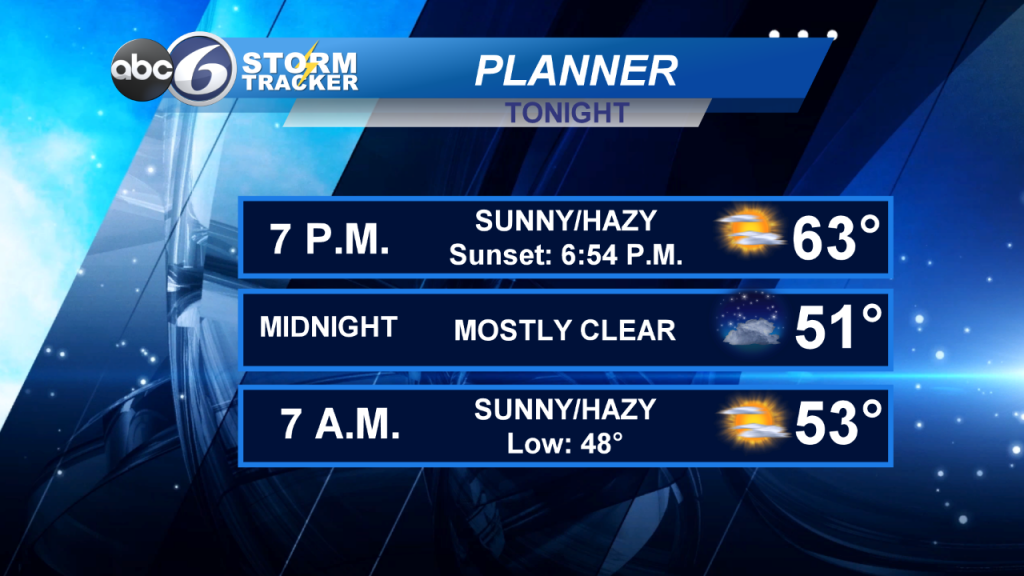 Mostly clear and cool again tonight. A few locations last night dipped into the 30s, tonight more in the way of 40s.
Wednesday, sunny…still a bit hazy at times with smoke from the wildfires out West moving across our area. Temps tomorrow in the low to mid 70s. Wednesday night, a few clouds. Not as cool with low temps in the upper 50s.
Thursday, a mix of sun and clouds. Mid to upper 70s. Thursday night, a few showers. Upper 50s.
Friday, mostly cloudy. A few showers. Upper 60s. Friday night, clearing and cool. Mid 40s.
Saturday and Sunday, the last weekend of Summer will fell very Fall like. High temps in the low to mid 60s, Overnight lows around 40° Saturday night and low to mid 40s Sunday night. Well below average for this time of the year.
Monday and Tuesday, more sun and still cool. Mid to upper 60s during the day, upper 40s and low 50s at night.
An Update On the Tropics:
Hurricane Sally will make landfall along the Gulf Coast tonight as a high end Cat 1, possibly low end 2. Regardless, rainfall and storm surge will be the primary concerns. Locations along the coast, especially the Mobile area, have the potential for nearly 2 and 1/2 feet of rain.
Hurricane Sally is the concern for now, but down the road need to watch Tropical Storm Teddy….likely to become a hurricane by tomorrow. The tropic remain active with Hurricane Paulette in the North Atlantic and Tropical Storm Vicky off the Africa Coast.
ABC6 Stormtracker, Jeff Desnoyers
Email: jdesnoyers@abc6.com