Another Winning Powerball Ticket Sold in RI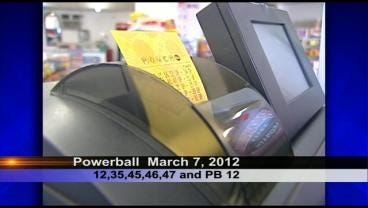 PROVIDENCE, R.I. (AP) – It's a lucky time to be in Rhode Island, if Powerball jackpots are any indication. Powerball officials say the only winning ticket to Wednesday's $60 million jackpot was sold in Rhode Island. On Tuesday, a state resident came forward to claim the $336.4 million jackpot from the Feb. 11 drawing.
The winner of Wednesday's jackpot and where the ticket was sold haven't been announced yet. The winning numbers were 12-35-45-46-47 and Powerball 12.
Eighty-one-year-old Louise White of Newport came forward Tuesday to claim the Feb. 11 jackpot, which was the sixth-largest U.S. prize. She said she bought the winning ticket at a Stop & Shop supermarket in Newport while stopping there to buy some rainbow sherbert.
(Copyright 2012 by The Associated Press. All Rights Reserved.)